Exclusive
Trouble In Paradise! Gretchen Rossi 'Tired Of Taking Care' Of Slade Smiley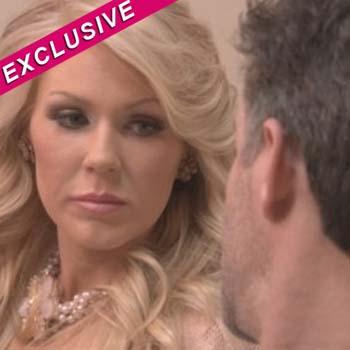 By Alexis Tereszcuk - Radar Entertainment Editor
Gretchen Rossi and Slade Smiley may look like the picture perfect couple but RadarOnline.com has exclusively learned there is trouble brewing in paradise for them!
The Real Housewives of Orange County stars have been a couple for years, but the gorgeous Real Housewife has had it with her unemployed boyfriend.
"Gretchen is growing tired of taking care of Slade and paying for everything in his life and she's just about had it," a source close to the blonde bombshell told RadarOnline.com.
Article continues below advertisement
"She is supporting him and helping to pay his legal bills and it's getting to be too much for her. Gretchen is seriously considering ending the relationship because she's sick of doing everything for Slade."
While cracks in their relationship have been showing this season on their reality show, the source said that the execs at the network want him out of her life too.
"The folks at Bravo hate them together and they don't want Gretchen to date Slade anymore," the source says. "He really adds nothing to her life and is more of a leach than an asset."
However, Gretchen, who recently rocked a sparkling bikini on the red carpet, is trying not to let people know about her troubles with Slade and is fighting to keep a lid on her relationship woes until the very moment SHE is ready to pull the plug once and for all.
"Gretchen is publicly supporting Slade and continues to defend him and their crumbling relationship, but behind the scenes she's admitting to friends that she's not happy doing what she's doing with him.
Article continues below advertisement
"And why would she be happy? Let's look at the facts here -- Gretchen is incredibly successful, she's bright, she's funny and she is a total knockout. What on Earth does Slade bring to the table, or the relationship for that matter?"
RELATED STORIES:
Wow, Reality TV Really Does Pay! Read How Much The Real Housewives Earn
OC Housewives Hold Pretentious Intervention, Accuse Alexis Bellino Of Flaunting Wealth