Vicki Gunvalson Is Accused Of Sacrificing Her Friends And Family For Her Man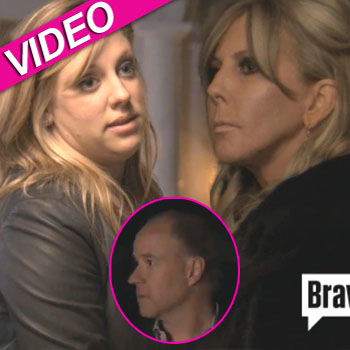 Article continues below advertisement
"Tamra said she didn't give you the 'evil eye,' she doesn't know where that is coming from," Briana tells her mom, when demanding to know why she had blown up her so angrily.
"Bulls**t. She's lying," replies a very distraught Vicki, who steadfastly stuck by her boyfriend over her BFF and flesh and blood.
"Stop yelling at me. I was just with Tamra, she's crying and shaking," Briana reveals. "You're really fun to deal with! You have fun with your boyfriend, you're going to defend him until the day you die."
It doesn't look like either side is going to reach a resolution anytime soon, with Vicki saying cruelly: "Guess what, Brooks isn't going anywhere."
Off-camera, the newly married and pregnant Briana is still fuming: "She seems like she's OK with our relationship suffering, and her relationship with my brother suffering so that she can be with Brooks.
"It makes me kind of sad that she is willing to jeopardize her relationship with good friends or even her family to be with this guy," she says bitterly.