Heather Dubrow Defends 'Deadbeat Dad' Brooks Ayers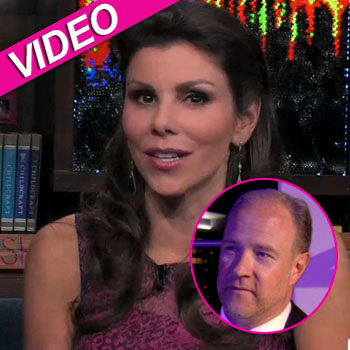 Article continues below advertisement
"I'm very fond of Vicki and I've had nothing but lovely interactions with Brooks," Heather said diplomatically.
RadarOnline.com exclusively reported that Brooks was a deadbeat dad to two women, his ex-wife Kim and the woman he cheated on her with.
His ex-girlfriend Nicolette Catanzarite told RadarOnline.com that Brooks owed her thousands of dollars in child support that he never paid.
She charged: "I want the bastard to pay child support!"
However, Heather didn't address the reports about Brooks not supporting his child and instead slammed the Emmy award winning show.
"I think it's sad that a news magazine like 20/20 didn't cover both sides."
Meanwhile, Vicki's daughter Briana Wolfsmith has told her mom how terrible she believes Brooks is and even Vicki's friend Tamra Barney has been fighting with her over her boyfriend.
Heather said that the second part of The Real Housewives of Orange County reunion show will feature Brooks and he may address the reports.
Article continues below advertisement