It's An All Out War: Lauri Peterson Slams Vicki Gunvalson For Leaking Private Email, Claims She Cheated On Ex-Husband Multiple Times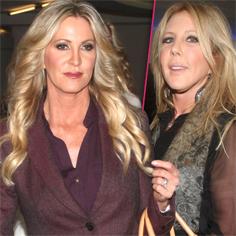 This week on The Real Housewives of Orange County, Lauri Peterson started a war with Vicki Gunvalson when she made a claim that she had once caught Vicki in bed with another man and another woman while the reality star was still married to her ex-husband Donn Gunvalson.
Listen! 'RHOP' star Wendy Osefo breaks down the "most intense fight in the show's history" in under 2 minutes.
Vicki quickly took to her social media accounts to clear up the allegations. She claimed that the other woman in bed with her that day was her sister and that she wasn't cheating on Donn. She also suggested that "Lauri needs to get her head checked."
Article continues below advertisement
With the ball back in Lauri's court, Lauri blogged about it on June 5 to explain how she used to be "good friends" with Vicki years ago until one day when Vicki pulled an unforgivable stunt.
"My friendship with Vicki ended seven months after I met George Peterson," Vicki wrote. "Vicki and I were working in the office one day, when a woman called asking for Vicki. The phone call that Vicki took, I will later discover to have been George's ex-wife's mother."
The next day, Lauri received a call from her RHOC co-star Jeana Keough and Jeana told Lauri that Vicki had gotten an email from George's ex-wife's mother and that Vicki had be instructed to deliver the email to Lauri. Unfortunately, Vicki distributed the email to everyone but Lauri – and Lauri had to read the email full of "slanderous lies" only after Jeana forwarded it to her.
"To learn that Vicki had (1) accepted a phone call from George's ex-wife's spiteful mother (2) entertained her for more than five seconds (3) provided her personal email to her (4) later received an email (5) failed to mention the call and (6) that she failed to mention the email was beyond belief to me," Lauri said in her blog.
Article continues below advertisement
This whole controversy changed the status of Lauri and Vicki's relationship.
"The act that ended our friendship, was when she forwarded that slanderous email she received, intended for me, to everyone but me," Lauri explained. "That action alone, I found to be malicious, evil, and vicious. That was definitely not what a 'friend' does to a friend!
Lauri continued, "I was really hurt and upset with Vicki but even more angry with myself for thinking she was a friend… I would not define our relationship as friends today."
So, years later, Lauri had no problem sharing details about Vicki's past wrongdoings.
"Over the years with Vicki, back when we were what I considered to be 'good friends,' she confided in me a lot in regards to her personal life," Lauri said in her blog. "She spoke candidly and opening about other men."
Lauri added, "Even though I personally didn't agree with her actions and choices, I kept my opinions to myself."
Article continues below advertisement
But that all changed when she found out that "Vicki had accused Gretchen Rossi of cheating on Jeff Beitzel during their engagement."
"Of all things to call Gretchen out on, infidelity probably shouldn't have been the one Vicki chose, especially knowing what Vicki had told me over the years during her marriage to Don and what I had personally witnessed on more than one occasion," Lauri said. "It was the hypocrisy of it all that got to me."
Lauri concluded, "I do not condone cheating!"