Exclusive
I 'Hope' They Sue Me! Jim Marchese Wants Day In Court With Napolitano Twins Over Claims Rino Aprea Slept With His Mother-In-Law, But 'RHONJ' Contracts State Stars Can't Sue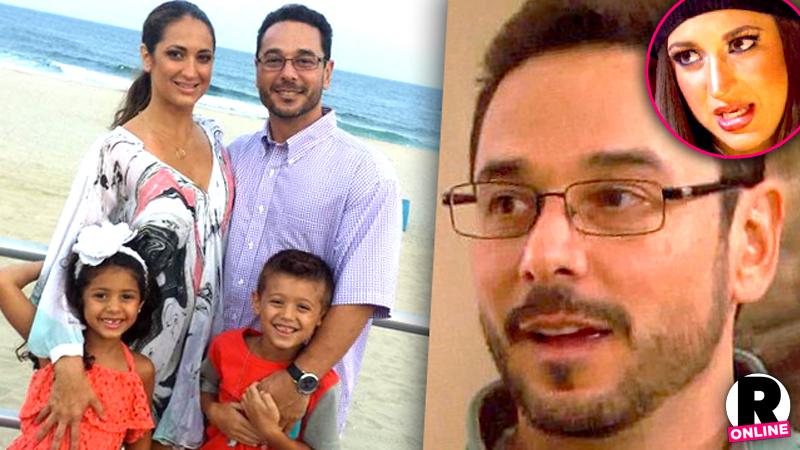 Could yet another Real Housewives of New Jersey star be headed to court? Housewives Nicole Napolitano and Teresa Aprea said Wednesday that their family was planning to sue Amber Marchese's husband, Jim, over rumors that Teresa's husband Rino slept with her mother — a rumor they say Jim started. Now, Jim is coming out swinging, telling RadarOnline.com that he was not the source of the allegation, and that he hopes the twins sue so they'll have to spill their secrets in front of a judge!
Article continues below advertisement
"My mother is ready to have a lawsuit against Jim for slander," Teresa told USmagazine.com on Wednesday.
Now, Jim tells RadarOnline.com, "I'm shocked and outraged by Santa's slanderous remarks that I am the origin of the 'Rino, Teresa and Santa love triangle!' OK not really … This is exactly what I expect from someone who Rino bragged about sleeping with to Victoria Gotti, while trying to work his way into the family at the time Santa's husband was in prison."
"I would be disgusted if I could stop laughing!" he continued. "Seriously, who brags about having sex with their mother-law and tells people he had a painting of a stripper in is house? Did they not see the episode? Blaming or suing me will not change the video or the truth of what was said."
What's more, Jim said he welcomes the lawsuit, as depositions could force the key players to reveal what they really know about the affair.
Article continues below advertisement
"This action may cause me to require hospitalization," he joked. "I keep falling off my chair when I consider having VIDEO DEPOSITIONS of SANTA, TWINS and RINO recounting what happened. First question? 'Santa did you have sex with Rino?'"
"Then after deposing Rino, I will depose all of their friends and the countless millions who heard Victoria Gotti say, 'Rino told me Gotti in a restaurant full of people….and he wasn't kidding,'" he claimed. "I hope she does file, as the video-taped depositions will be worth millions!"
Ultimately, Jim insists the churning rumor mill is not his fault, because Gotti was the one who aired the info on national TV.
"As you can see this is laughable," he said. "Santa and Rino's affair was public information via Victoria Gotti. I merely commented that in my opinion it is 90% true. Given the fact that they are not suing Victoria Gotti, I now believe it is 100% true."
But no matter who started it, Jim says any discussion of a lawsuit is senseless, since Real Housewives stars sign contracts banning them from such legal action.
Article continues below advertisement
"The sad part is Santa did not read her release and the twins did not read the contract they signed with me," he claimed. "The release says Santa cannot sue anyone for defamation and the twins, on March 13, 2013, signed a contract specifically indemnifying me against any civil action (including defamation) with legal fees paid at 150%.
If they do bring a suit, he said, "the twins would end up paying my legal fees as well as any potential damage."
As RadarOnline.com has reported, drama between Jim and the twins has been brewing for weeks. They were so disgusted by comments Jim made about the alleged affair during the cast trip to Miami, an insider said, they even refused to film with him afterward!
"After the trip, Teresa, Nicole and Rino all refused to film with Jim going forward," a source told RadarOnline.com. "They were disgusted by his actions and never want to see him again!"
Indeed, Jim was subsequently banned from attending the filming of the finale episode and "there are serious doubts he will be included in the reunion filming," the source revealed. "The twins are adamant, they want nothing to do with Jim, and refuse to even be in the same vicinity as him."