Exclusive
Dina Manzo 'Furious' Jacqueline Laurita Is Back On 'RHONJ' -- 'Jealous Of The Attention She's Getting'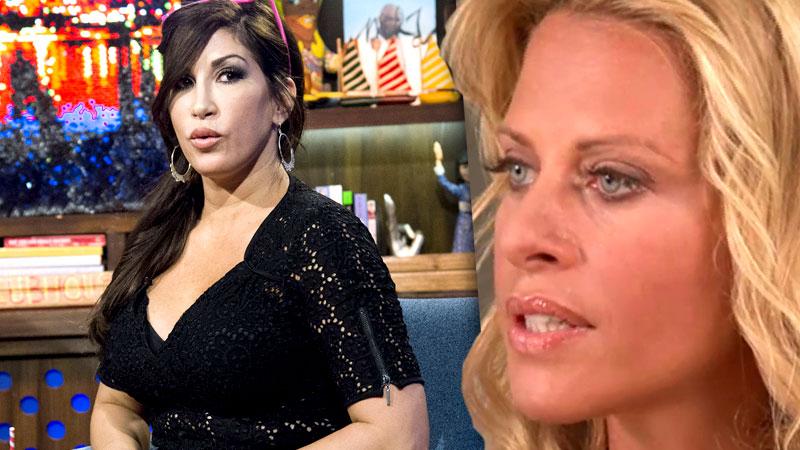 Article continues below advertisement
"She does not get along with Jax at all and she is mad that she's been put in this position."
As RadarOnline.com previously reported, Manzo, 43, came back for Season 6 of the struggling Bravo show and was quoted as saying, "I will never do a reality show with family ever again. It's just not a healthy environment."
Laurita is Manzo's sister-in-law.
"Dina's return to the show has been really lackluster. Her whole 'Zen' attitude is boring," the source continued.
"So Jacqueline and her drama was something the producers really wanted."
Laurita and her husband Chris have been facing a barrage of legal and financial woes lately, filing for bankruptcy and after a failed clothing company, and then having the Trustee of the bankruptcy case sue them for $7.8 million to pay back their creditors.
"Jacqueline is back for the season now too. She will be in episodes at the end of the season," the insider revealed. "She always knows how to cause the most drama. Dina is jealous that Jacqueline is getting all the attention now and she's totally unhappy."
It's been reported in the past that Laurita was fired after Season 5 because Manzo gave Bravo an ultimatum, refusing to come back herself unless her sister-in-law got her walking papers.
"I didn't get anyone fired," Manzo stated.
What do you think about both Dina and Jacqueline being back? Sound off in the comments below!