Exclusive
RHONJ Showdown! Dina Manzo Issues Ultimatum - Fire Jacqueline Laurita Or I'm Not Coming Back!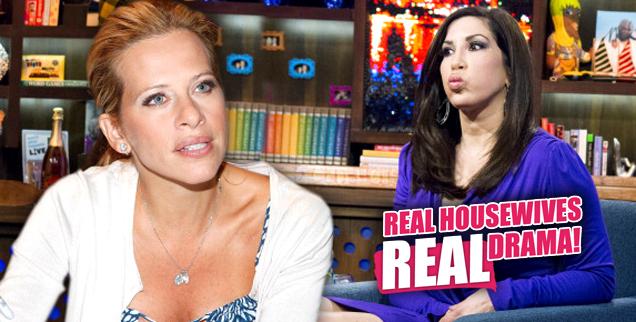 The Real Housewives of New Jersey needed a major cast shakeup but RadarOnline.com has exclusively learned that Dina Manzo gave the producers an ultimatum – fire Jacqueline Laurita or I'm not coming back.
''Dina wants to come back but wants Jacqueline fired first, because she is afraid of fighting with her,'' a source close to the situation told Huffington Post blogger Tom Murro, and said Jacqueline had to be gone for her return because of their old feuds.
Article continues below advertisement
''Dina doesn't want to be exposed for who she really is. Dina forgot about her brother or sisters ability to be on the show.''
The source said Danielle Staub was the real instigator of all the old fights and that a Jacqueline/Dina feud goes back to season one.
''Jax stopped Danielle from exposing Dina so many times by refusing to film with her if she said anything about her. Jax told Danielle that if she said anything about Dina, she would not be friends with her anymore. Danielle always told stories about Dina and everyone else'.
''Jacqueline always protected Dina until she dragged her in the season one finale wanting her to lie for her while she cowardly let Caroline cover for her.''
True to the Housewives curse, Dina's own marriage may be in trouble as well, but the source said her status will all depend on her own success. Dina revealed in February that she and her husband had separated, but they may not actually be getting divorced.
'If Dina makes enough money on her own then she can leave her husband, if not she's going back to him. She's already attempted a few shows to further herself but they fell apart. RHONJ was her only option to stay in the limelight for now."
The source said bringing Dina back will make for great television.
''The onion will be unpeeled next season on the RHONJ.''