Shooting The Messenger? Dina Manzo Says She Needed Therapy After Confronting Twins Teresa Aprea & Nicole Napolitano About Cheating Rumor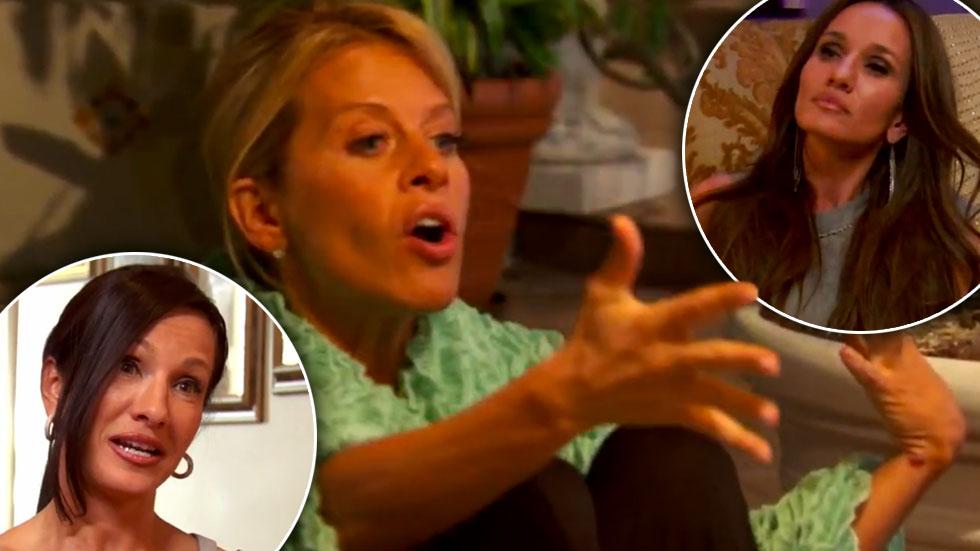 Is Dina Manzo regretting her return to Real Housewives of New Jersey? After getting caught in the middle of the season's biggest rumor on last night's episode, she admitted in a blog post today that she felt victimized by her own gossip-spreading ways — to the extent that she needed therapy after!
"It was something I hope I never have to experience again," Manzo confessed in her latest Bravo blog.
The drama went down on Sunday's episode, Manzo told twins Teresa Aprea and Nicole Napolitano that Teresa Giudice and Amber Marchese had heard a rumor about Aprea's family.
Article continues below advertisement
As RadarOnline.com readers know, Victoria Gotti had told Giudice and Marchese that Rino Aprea had cheated on his wife Teresa Aprea with her mother, Santa. And according to the story, that's why Aprea and Rino divorced; they remarried again years later.
But Aprea didn't want to hear what the rumor was – so Manzo didn't tell her or her twin sister Napolitano during the tense episode.
On her blog, Manzo wrote, "I was surprised Teresa Aprea didn't want to hear it and right away. I was like, OK, Dina, shut your mouth, and so I did. It was a lose-lose for me…I've learned that there's actually a term in therapy for the position I was put in."
Manzo referred fans to her website where she appeared in a video with two therapists to explain her dilemma.
Manzo said, "I was put in a horrible situation, damned if you do, damned if you don't." She noted of co-star Aprea, "Teresa gets her guard up right away."
Manzo said that the other Teresa – Giudice – gave her blessing to tell the twins about the cheating rumor.
"My intentions were good…still, I was stuck in a really sh*tty spot," she declared on dinamanzo.com, also saying the news would have been better coming from her instead of from Marchese.
Manzo's therapists gave her meditation exercises after the ordeal, the reality star said on her video.
"I was a mess," she sighed.
Do you think Dina did the right thing? Let us know in the comments!