Brawl In Boca! Jim Marchese Drops Bombshell About Nicole Napolitano & Bobby Ciasulli On 'RHONJ': 'He's Been F***ing Some Girl In The Condo…The Whole Time He's Been Dating Her Sister!'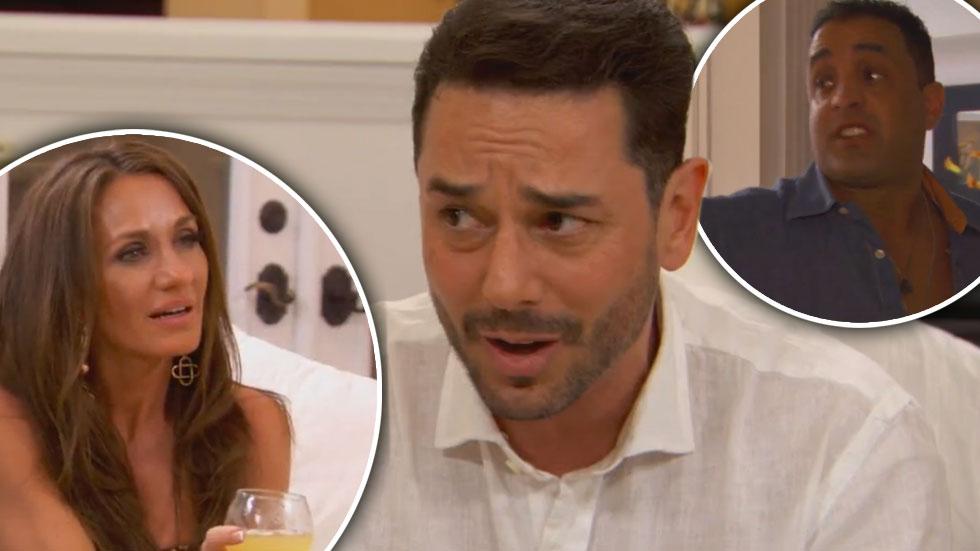 Article continues below advertisement
"How could one person make everyone hate him?" Joe asked Bobby right before one of the most explosive fights of the season.
During a booze-filled conversation, Jim said, "If you love a woman and you respect her, you man up and you do what's right. When I met my wife I told her within a month, I love her, we're getting married. You make the decision and you do it. That's what a man does."
The comment upset Bobby, who had yet to propose to Nicole after almost a year of dating. While Teresa could see that he was trying to get under Bobby's skin, Nicole took Jim's side.
"I respect that," Nicole said. "I believe the first time you lay eyes on a man and you talk to him, you could say, 'That's the person I want to spend the rest of my life with.'"
With that, Bobby stormed off and locked himself in the bathroom, telling Nicole that she's "stupid" for falling for Jim's act.
"Bobby needs to grow up," Jim sniped. "If he wants to be with you and he truly loves you, then he's got to make the commitment. This is bullsh*t."
Article continues below advertisement
When Nicole stood up for her boyfriend and insisted that Bobby has been committed to her, Jim blasted, "I know what he's told me about you for a year… You don't think guys talk? I'm not going to talk about what Bobby said about your family and what he told me about you guys."
Nicole fired back, "I do not believe that Bobby will say anything about my family. It's not fair that he's not here to defend himself."
After Amber explained that they are going to stop the conversation to avoid any more fighting, Jim only added feud to the fire by saying, "You don't want to know what Bobby told me about your family."
That – of course — set off his wife, who had come to Florida to celebrate being cancer-free for five years.
"I'm done with this conversation Jim, I'm f*cking done. You want to go there, Jim? You go there. I'm f*cking done," she yelled before storming off.
Article continues below advertisement
When Nicole refused to get Bobby to come down to defend himself against Jim, he told Nicole, "Go upstairs… deal with your little girlfriend."
This did not sit well with Nicole's twin Teresa, who said in her confessional, "I think Jim is very calculating. If you mess with my twin you mess with me. Hurt my family, I hurt you back."
After she confronted Jim, he dropped a huge bombshell.
"You know when I'm going to laugh my balls off? When she finds out that he's been f*cking some girl in the condo that he's been keeping the whole time he's been dating her sister," Jim said about Nicole and Bobby.
"I'm done! My husband will smash him," Teresa screamed as Joe Gorga made him stand and began to push him towards the door.
"I'm not going to fight Jim because I only fight men," Melissa's husband said in his confessional. "In a man's world Jim is considered a b*tch."
Watch the shocking video right here on RadarOnline.com:
Tune in on Sunday to see Bobby confront Jim at 8/7c on Bravo.