Exclusive
New 'RHONJ' Star Teresa Aprea Defends Her Dark Past: 'My Husband Isn't A Cheater' & 'I Never Had A Lawsuit' Against A Bank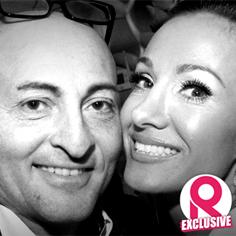 Article continues below advertisement
"I could straight out say that adultery has never been an issue," she said.
Aprea was married to Rino early on and then they got divorced. But after 11 years, the couple reunited and married again.
"Even 20 years ago when we got divorced, one thing, and I can say this wholeheartedly, my husband is not a cheater," she maintained. "Yes, people will talk and people will start rumors but… he adores and cherishes the ground that I walk on."
"I would never say, 'I have the perfect marriage,'" she said. "But one thing I never have to compete with is another woman. Absolutely not."
And Aprea wasn't thrilled that her co-stars talked about her marriage and implied that her husband wasn't faithful in front of cameras
"I'm not happy about it," she admitted, but said, "That's life: You're going to deal with nasty, disgusting people," she said. "To me it just brings more to the show. This is obviously why we are The Housewives: We have strong personalities, thick skin, and I can deal with it."
Article continues below advertisement
Aprea also addressed another situation: a reported lawsuit that she had to deal with in 2010.
As RadarOnline.com first revealed, Aprea was sued by her credit card company Capital One in 2010 for an unpaid charge of $1,702.08.
But Aprea didn't recall having to deal with the lawsuit.
"A lawsuit?" she said when RadarOnline.com asked her about the circumstances. "Honestly I don't even know. I never had a lawsuit with them."
"I have to be honest with you, if that's my thing, that $1,000 maybe years ago I forgot to pay, that should be the only negative thing that they could say about me," Aprea said. "I have a home. It's paid off: No mortgage."
"Maybe I was late on a bill?" she concluded. "I think everybody who lives on the planet Earth has been late on a bill. Shame on me if I was negligent and was late on it, but obviously it had to get paid."
The new season of RHONJ premieres on Sunday, July 13 on Bravo.