Exclusive
BFFs No More! Dina Manzo Turns On Teresa Giudice Amid Legal Troubles — The Secret Reason Behind Their Feud EXPOSED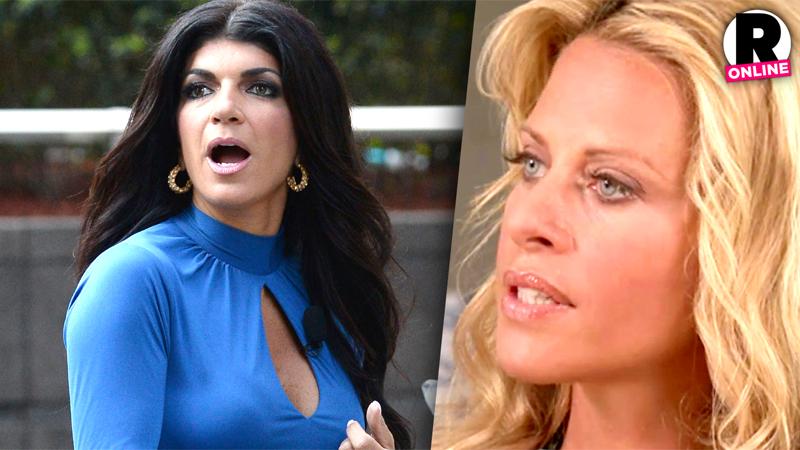 Teresa Giudice could certainly use the support of her friends these days. But RadarOnline.com has learned that in upcoming episodes of The Real Housewives of New Jersey, Giudice's longtime BFF abruptly turns on her, blaming the reality star for Victoria Gotti's shocking comments about co-star Teresa Aprea husband, Rino, allegedly having sex with her mother, Santa. And off-camera, a source says, it's been even worse: Manzo didn't even reach out to Giudice after her sentencing!
Article continues below advertisement
In upcoming episodes, "Dina does a complete turnabout on Teresa and blames her for the fallout after Victoria made the startling claim," an insider told Radar. "To say that Dina throws Teresa under the bus is an understatement. It was such a betrayal for Teresa because it was the show producers that arranged for Victoria to appear on the show, and Dina knew that."
"Teresa and Dina have a huge blowout on camera, and the fireworks continued after filming wrapped," the insider continued. "Teresa said Dina was a sellout and it was no mystery why her own sister, Caroline wants nothing to do with her."
Meanwhile, the tension has only continued off-air. According to the source, "Dina didn't even reach out to Teresa after her prison sentence was handed down."
"The first time the two women saw each other was at the reunion which taped on Sunday," the source said. "There is no love lost between the two of them at this point, which is truly sad because Teresa now has no friends or allies on the show."
RHONJ viewers were stunned when Gotti told Giudice and Amber Marchese that Rino had confessed to an affair with his mother-in-law, Santa.
Article continues below advertisement
Now, Giudice's confidante Gotti is also furious with her former friend, after Giudice pretended like it was the first time she heard the allegation when cameras were rolling.
"For Teresa to go on camera and act like it was the first time she had heard it is just a blatant lie," a source previously told Radar. "Teresa was obviously trying to get back in the good graces of the show's producers. Everyone on the cast had been talking about Rino being involved with his mother-in-law. It was hardly a secret."
"Victoria is just saddened that Teresa would betray her like this. She has always been a truly supportive friend to Teresa, and has offered anything she can do to help with all of the Giudice's legal problems," the insider added.
Would you be friends with Teresa? Why or why not? Let us know in the comments!