Exclusive
Last Call! Andy Cohen Banned Alcohol, Physical Contact From 'RHONJ' Reunion Over Fears Of Giudice Meltdown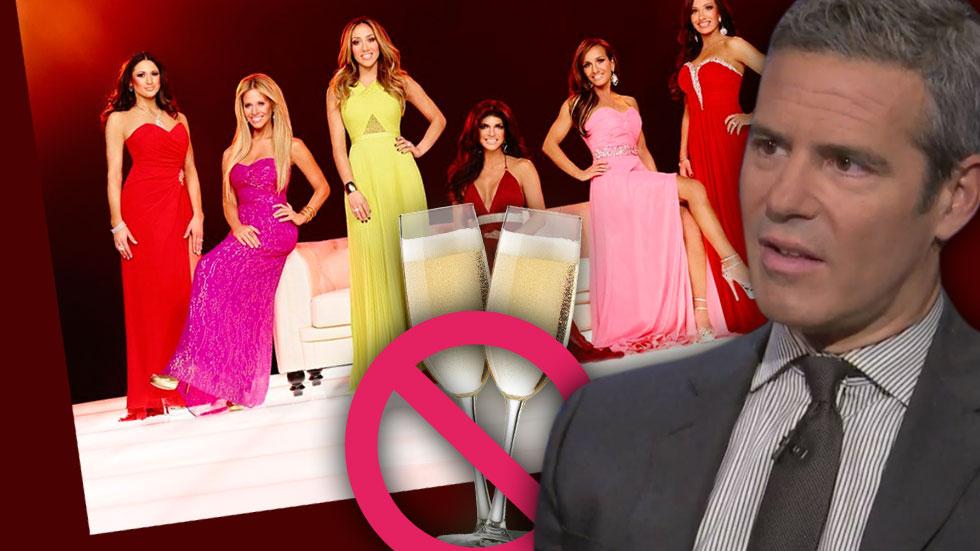 Teresa Giudice's looming prison sentence isn't just affecting her and her family. RadarOnline.com has learned that Bravo boss Andy Cohen banned alcohol from the Real Housewives of New Jersey reunion taping last Sunday, and warned the housewives there would be no physical contact, over fears that a brawl or meltdown could get Teresa and her husband Joe's bail revoked and send them to prison, immediately.
Article continues below advertisement
As a result, Sunday's reunion was "very somber," an insider told RadarOnline.com. "Teresa and Joe had just been sentenced to prison. And it was the first time that there hadn't been alcohol on the set for the reunion taping. In past years there was a bar set up in the green room, and Teresa would even bring her Fabellini wines!"
But this time around, "It was only soft drinks and bottled water," the source revealed. "In addition, Andy talked to each housewife individually, and their significant others, and said there would be absolutely no physical violence or threats tolerated. Anyone doing it would be removed from the premises immediately."
"This was done because Joe and Teresa are still out on bail and conditions of it require that they both obey all laws," the source explained. "Failure to do so could result in their bail being revoked, and they would be sent to prison immediately."
What's more, as RadarOnline.com reported, Joe's attorneys told the court during his sentencing that he suffers from an alcohol problem, and blamed the show's free-flowing booze for exacerbating the issue.
Article continues below advertisement
As such, on Monday's highly-anticipated special Watch What Happens Live: One-On-One with Teresa and Joe Giudice, the infamously boozy show was unexpectedly dry. There was no guest bartender, no drinking game watch word, and no alcohol on set at all, according to an insider.
Despite the precautions, the reunion taping was "exhausting for Teresa," the source revealed, "but she was thankful that Andy made sure nothing was done that could have resulted in her bail being revoked. Past reunions have always escalated into shoving matches between dueling reality stars, with Andy playing referee. Who could forget it was Teresa that actually pushed Andy back into his chair during a reunion taping several years ago, as she attempted to go after arch-enemy Danielle Staub?"
While the ladies traded verbal jabs during the taping, however, their significant others were backstage hanging out together watching the New York Giants football game, according to the source.
"Joe Giudice, Jim Marchese, and Joe Gorga laughed together, and seemed to content to let their wives be in the spotlight," the source added.