Radar Told You First: Teresa & Joe Giudice Told Teen Daughter Gia About Prison Sentences, Supportive Daughter Responded Well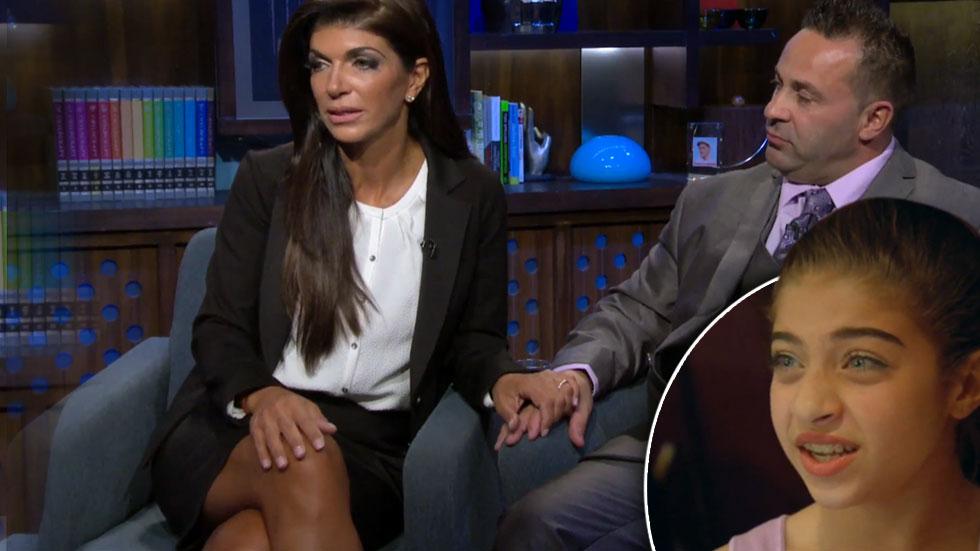 Article continues below advertisement
"There were, of course, some tears shed" from Gia after hearing her parents' prison sentences — Teresa will serve 15 months in custody, then Joe will serve 41 — but "Gia told her mom she would take care of the younger girls, and not to worry, which made Teresa cry even more."
On Monday's special, Teresa delved into detail of her daughter's resolve, as RadarOnline.com first told you about, telling host Andy Cohen that Gia told her, "Mommy, don't worry about it, I'll be there … I'll help daddy with the girls … it'll prepare me for when I'm a mom.'"
Teresa, 42, said that Gia told her "the one person she was worried about was me."
Teresa explained the challenging circumstances that lie ahead for the family, saying, "My husband is a great father, great husband, but I do everything with my daughters: I drive them everywhere. I'm old school.
"I said to my husband, 'All you have to do is please take care of our daughters. That's all I ask. You have to do what I do.'"
Article continues below advertisement
Joe, on Monday's special, said that he's prepared to "be the housewife" in Teresa's stead for their four daughters, Gia, Gabriella, 9, Milania, 8, and Audriana, 5, and that he plans on taking them to see their mother twice a week after she begins serving her sentence Jan. 5.
"It's going to be a lot of work," he said, "but they are my daughters, and I gotta do what I gotta do."
Elsewhere on Monday's special, Joe opened up over last week's sentencing hearing, saying that he "actually felt like he got hit in the back of the neck by a bat" upon hearing the stiff sentences he and Teresa received.
"I don't know — it is what it is," he said. "I expected to serve time in jail … I wasn't expecting her. She had no part in my businesses or whatever, she really didn't."
Regarding Teresa's compliance in the fraud scheme that led to the convictions, Joe stressed to Cohen that he only gave to Teresa "just whatever the bank gave me for her to sign," to which Cohen countered, "But you were taking out false loans."
Article continues below advertisement
A subdued, weary Joe replied, "All right, whatever: I was taking out false loans."
Cohen also grilled Joe about the couple's lavish lifestyle — one RadarOnline.com documented in such detail, the court cited our coverage in its' ruling — but the couple continued to claim they're pennywise in their financial dealings.
To prove his point, Joe asked Cohen to appraise the fancy suit he wore to the taping, to which Cohen guessed $600.
But the price wasn't right, according to Joe, who shot back, "Two suits, two shirts, two ties for $250 -- and they tailor it."
Joe said that he's more concerned with the 15 months Teresa will spend behind bars than the 41 he will serve once she's released.
Watch the video on RadarOnline.com
"If you stick me with a knife I wouldn't even feel it, y'know?" the burly reality star said.
Teresa said her demeanor in prison will differ greatly than the spitfire who's been the focal point of the Bravo series for years.
"I'll just slick my hair back and go about my day," she said. "No one can push my buttons anymore."
The second installment of the interview airs Thursday at 9/8c on Bravo.