Exclusive
Federal Judge Cites Radar Reporting For Exposing Teresa Giudice's 'Pattern Of Deception'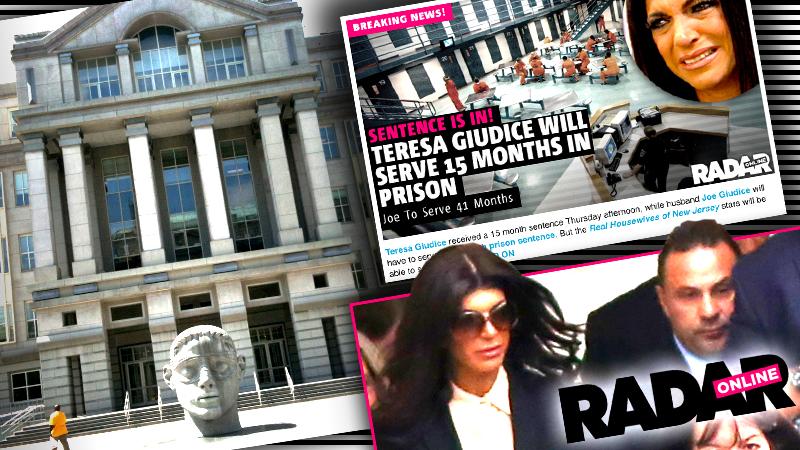 Teresa Giudice might not be going to prison if it weren't for RadarOnline.com. At her fraud sentencing Thursday afternoon, U.S. Prosecutors read RadarOnline.com reports on the reality star's lies to the open courtroom, revealing the extent of what the judge called a "pattern of deception," and ultimately swaying her sentence.
"For a moment, I thought about probation," and house arrest, instead of jail time, Judge Esther Salas admitted at the sentencing. "For a moment. I considered probation with confinement. But the behavior you engaged in greatly offended the court."
Article continues below advertisement
Her comments were in reference to an apparent lack of transparency in the list of assets that the Giudices submitted to the court — which cited the value of Teresa's jewelry collection, for example, as $0.
Prosecutors apparently found that suspicious, and brought with them to the proceedings a copy of a RadarOnline.com report from August 19, which described a pricy ring that Teresa gifted to her daughter.
"The judge seemed to take that as a sign that Teresa and Joe knowingly tried to fool the court and cover things up," an eyewitness to the proceedings told RadarOnline.com. "She kept harping on the fact that it was just an ongoing pattern of deception, and it seemed like the RadarOnline.com story was one sign of Teresa getting caught in a lie."
"Teresa's attorneys tried to discredit the report, saying that it was just a 'tabloid story,' and that on the same page there was a link to a story about the Duggars," the source said. "But the judge seemed really swayed by it."
Indeed, Salas trashed the pair for an alleged "pattern of deception, dishonesty and concealment," in opening statements for the sentencing Thursday morning.
As RadarOnline.com has reported, Teresa must report for a 15-month prison sentence on January 5. She may be released sooner than the end of her sentence due to good behavior credit, Salas noted. Once she is done, her husband Joe must begin his 41-month term, after which he is likely to be deported.