Exclusive
Joe & Teresa Giudice Gave Daughter FAKE Family Heirloom — The Ring Wasn't Grandma's!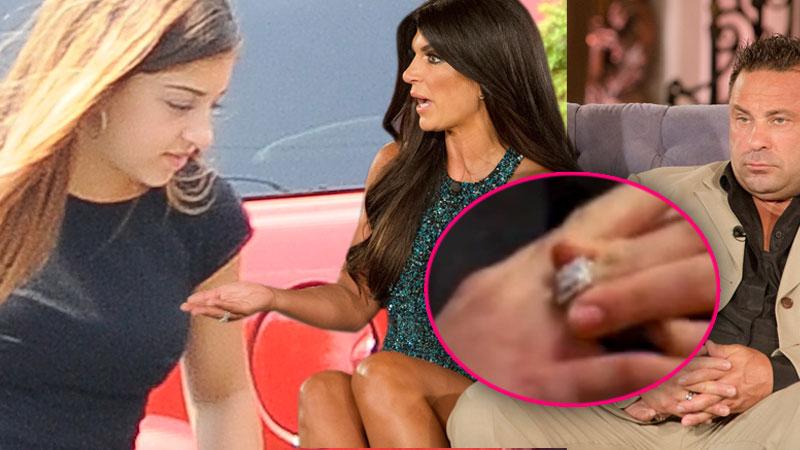 During a heartfelt moment on Sunday night's Real Housewives of New Jersey, Joe and Teresa Giudice gave their oldest daughter Gia a family heirloom — a diamond ring that had belonged to her grandmother.
However, RadarOnline.com has exclusively learned the entire scene was faked, and the diamond ring was gifted to Teresa from a jewelry store and given to Gia on camera to give the owner some publicity.
Article continues below advertisement
"The diamond ring had been given to Teresa about a year ago by a jeweler in New Jersey. Teresa wanted to give Gia the ring on camera to give publicity to the jeweler," a source told RadarOnline.com.
"Teresa's mother never had the ring for any extended period of time. It was all done for the show, and it's now back in Teresa's possession."
As RadarOnline.com previously reported, the cash-strapped reality TV star is begging her friends for money as she awaits sentencing since taking a plea deal for fraud, but she's actually not quite the desperate housewife she been playing off camera.
Giudice is still raking in the dough because according to her contract for the Milania Hair Care line she co-founded in 2012 — and obtained exclusively by RadarOnline.com — Giudice banked more than $75,000 for signing on to hock the products.
In addition to that signing bonus, Giudice has been making nearly $5,000 a month ($4,861.11, to be exact) since August 1, 2012.
And the cash flow isn't about to dry up any time soon. Her contract doesn't expire until July 1, 2015!
That means the controversial mom-of-four – who faces possible jail time on multiple fraud charges stemming from her 2009 bankruptcy case — is making nearly $200,000!
Sentencing is scheduled for September.