Exclusive
Nice Work If You Can Get It! Teresa Giudice Takes Home $5,000 A Month To Tweet About Her Hair Care Line! – Read The Pay Day Details In Her Secret Contract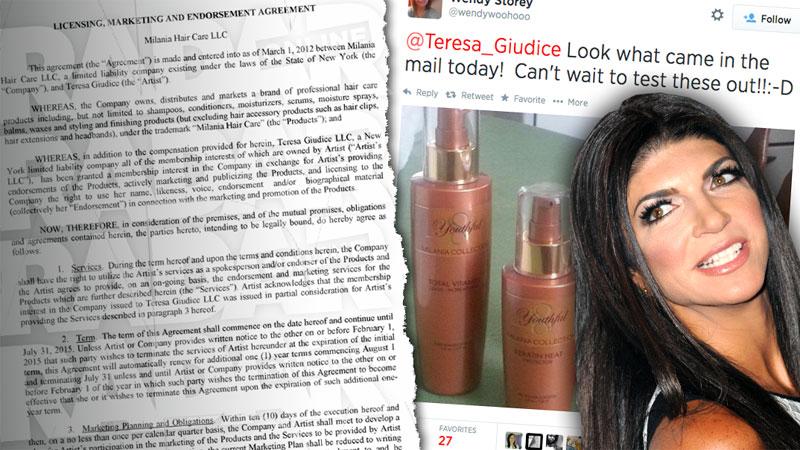 Jersey girls sure do love their hair — and leave it to Teresa Giudice to find a way to make money off it! While the cash-strapped reality star is begging her friends for money as she awaits sentencing since taking a plea deal for fraud, she's actually not quite the desperate housewife she been playing off camera. RadarOnline.com has learned she's actually still raking in the dough, because according to her contract for the Milania Hair Care line she co-founded in 2012 -- and obtained exclusively by RadarOnline.com -- Giudice banked more than $75,000 for signing on to hock the products.
Article continues below advertisement
In addition to that signing bonus, Giudice has been making nearly $5,000 a month ($4,861.11, to be exact) since August 1, 2012.
And the cash flow isn't about to dry up any time soon. Her contract doesn't expire until July 1, 2015!
READ: The Surprising Contract Details Here!
That means the controversial mom-of-four – who faces possible jail time on multiple fraud charges stemming from her 2009 bankruptcy case -- is making nearly $200,000!
So just what does Joe Giudice's wife have to do to bring home the big pay day?
She barely has to lift a finger.
Referred to as an "artist" who's even granted script approval per the contract, Giudice is not only obligated to make personal appearances and take photographs, but she has to promote the beauty items on Twitter at least twice a week to her more than 900,000 followers.
The only problem is the last time the New York Times bestselling author mentioned the line on Twitter was Aug. 4, when she retweeted a fan's message. And didn't tweet anything the entire month of July.
Article continues below advertisement
But her self-promotion is endless when it comes to her Fabulicious cookbooks and Fabellini sparkling wine.
Yet Milania reps don't seem too concerned about the feisty Italian upholding her contract amid the sudden death of her father-in-law and the Giudices' sentencing looming in September.
"Youthful8 is still working with Teresa and wish her and her family the very best during this difficult time," a rep for Youthful8 Milania Collection told RadarOnline.com.