Exclusive
Desperate Housewife! Teresa Giudice Begging Fans To Donate To Her Defense Fund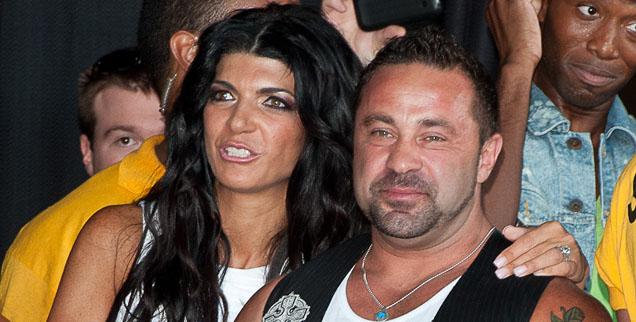 Teresa Giuidce is facing a whopping 39 counts of fraud and tax evasion and RadarOnline.com has exclusively learned that the reality star's finances are so dire that she has resorted to begging her fans to help pay her legal bills.
The Real Housewives of New Jersey star will be making a personal appearance to ask her loyal followers to donate money to her legal defense at the Malibu Beach Resort on Thursday night.
Article continues below advertisement
"Her supporters and millions of fans around the world strongly believe Teresa will be vindicated soon and are seeking donations for the reality TV star, who has four young children," a press release about the event reads.
GALLERY: The Giudice's 30 Most Shocking Quotes About Fraud & Finances
"The group is dedicated to helping Teresa stay out of prison and also help pay any fines or other restitution that Teresa and Joe are ordered to pay."
MORE ON:
Celebrity Justice
As RadarOnline.com has previously reported, Teresa and Juicy Joe pleaded not guilty to the federal charges, which include allegations of falsifying tax returns and W2 forms.
While the Bravo star has dismissed the charges that she is having financial difficulties, the event organizers expect to have "hundreds of fans collecting money" to help Teresa and Joe pay for their lengthy legal battle.
Teresa and Joe are facing 50 years behind bars if they are convicted of committing the crimes with which they are charged.
Perhaps due to backlash about the fundraiser, Teresa is denying the information in the press release, Tweeting: "Tonight's appearance at Maliblue is just a meet & greet w/ fans. I just heard that some of the workers there wanted to support me, and that is very sweet & I appreciate it, but if anyone wants to support me, please do it by donating to a charity I love: @NephCure. Xx"
It definitely pays to have loyal fans, now hopefully they're rich and generous too!