Exclusive
The Littlest Victims: Teresa & Joe Haven't Told Youngest Daughters About Looming Prison Time — 'Too Young To Understand'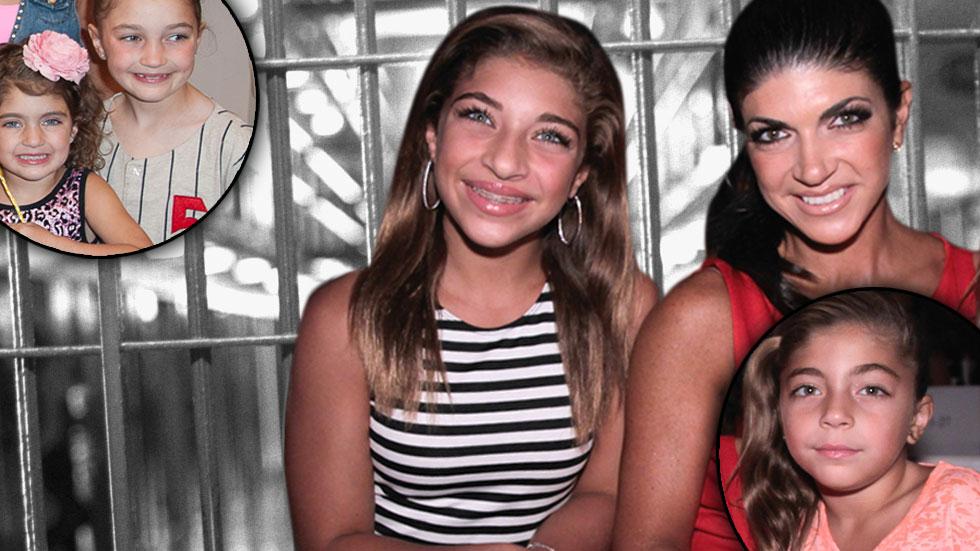 The countdown has begun for Teresa Giudice, who must report to prison on January 5 for a 15-month sentence. But as she ticks off her final days of freedom with family, RadarOnline.com has learned, her youngest daughters aren't aware that they will be losing their mom — and then their dad Joe after that. According to an insider, the Giudices have decided not to break the heartbreaking news to daughters Gabriella, 9, Milania, 8, and Audriana, 5, because they think they're too young to understand.
Article continues below advertisement
"Teresa and Joe decided they were only going to tell Gia 13 that they had both been sentenced to prison, because of her age and maturity," an insider said. "Telling the other three girls would have just been to hard because of their ages. They aren't quite old enough to understand all of it. They don't want to scare the girls."
"This is the saddest part of this entire mess," the insider said. "The girls are the littlest victims. Losing their mom for a year of their lives is going to be very, very hard on them. Teresa is a fantastic mother, and those girls rely on her for everything. Joe is going to need to step up."
When Teresa and Joe returned home from their sentencing yesterday, it was time to break the heart-rending news to their eldest daughter, who said on an episode of RHONJ this season that she understood her parents' legal plight.
"Gia took the news pretty well," the insider said. "There were of course some tears shed. Gia told her mom she would take care of the younger girls, and not to worry, which made Teresa cry even more."
Article continues below advertisement
It could have been a lot worse for Teresa, as prosecutors asked the judge to send her to prison for 21 months.
Judge Esther Salas admitted during the sentencing, "I've got to say, you're a devoted mother … The court is empowered with some discretion," to reduce the sentencing in light of that fact.
"There is a bond between these girls and their mother," she continued. "I have to consider these girls, and their bond with you."
Teresa will serve her sentence before Joe begins his 41-month stint, so that one parent will remain with their daughters at all times.