Exclusive
Exclusive Interview: Teresa Aprea & Nicole Napolitano Claim Jim Marchese Was Banned From The 'RHONJ' Finale Episode Over Affair Rumors — Will They Sue?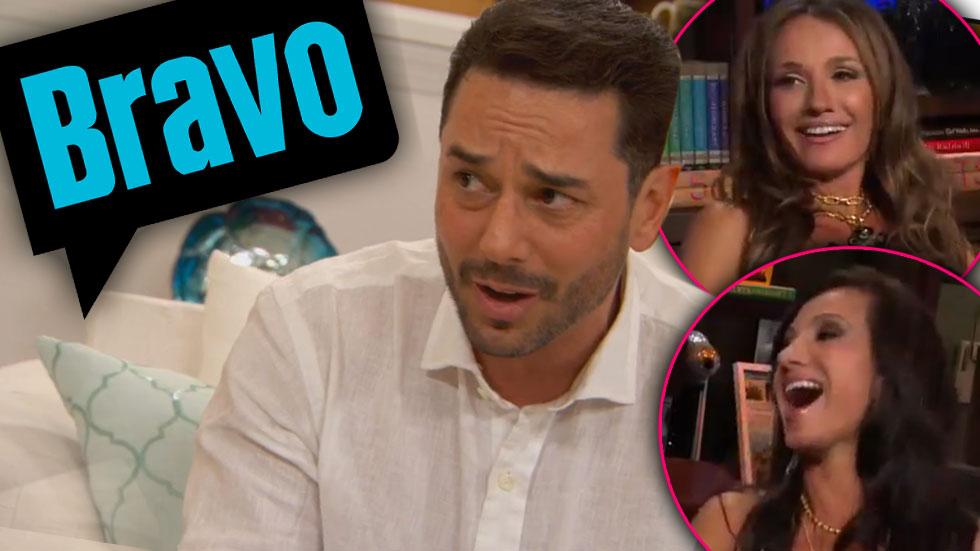 Article continues below advertisement
On Sunday night's episode, Jim and his wife, Amber, joined the rest of the cast in Boca Raton, Florida. But the relaxing, drama-free trip got heated once Jim stepped through the door.
"They came down to Florida and like a tornado they always bring garbage," Teresa said when asked about Jim's arrival. "He's just not a nice person. I don't know too many men that like to fight with women, but he does."
Her husband Rino added, "He's insulted each and every individual on that cast."
Jim was asked to leave Florida after he confronted Teresa about rumors spread by Victoria Gotti, claiming that Rino cheated on his wife with Teresa's mother, Santa.
"He was sent with his bags packing. He wasn't there more than 12 hours," Bobby said. "They came to Florida with an agenda to cause trouble. Friendships have been ruined because of it. At the end of the day, when all the truth comes out, their plan is going to wind up backfiring."
Article continues below advertisement
As RadarOnline.com has reported, Jim's troublemaking even forced producers to ban him from the finale, which is the first time in RHONJ history that a cast member's husband was forbidden from the final episode. According to Teresa, Bravo laid down the law when several cast members refused to film with Jim present.
"When that show was over, it was over for me, everything was done," Rino explained. "When he insulted my wife, my sister-in-law, and every other woman in that house that day... I decided I would never, ever be in somebody's company like that. That's a dangerous person."
But what about the infamous rumor that Victoria Gotti spread about Rino's infidelity? According to the couple, the rumor is completely false.
"She's using me to jumpstart her new career," Rino said of Gotti. "It's either that or she's losing her mind!"
Teresa added, "People do things for money! When you're a has-been, you do anything to put your name in the spotlight and get on TV."
The Apreas weren't the only cast members to be attacked by Jim. During Sunday night's episode, Jim told Nicole that Bobby not only spoke badly about her and her family, but that Bobby was cheating on her.
Article continues below advertisement
"We know who we are, we know what the truth is," said Bobby when asked how their relationship has withstood all of the rumors. "We stand together and we deal with it. There is a lot of stuff being said out there and none of it is true."
As RadarOnline.com recently reported, the twins planned to sue Jim over his remarks throughout the season. Nicole explained that they have decided not to sue, and only wanted him to understand that he cannot slander someone's name.
"Everything with Jim is sue, sue, sue and that's just not me," Nicole said. "I just want someone to be convicted of what they're doing and stop it."
As RadarOnline.com has reported, Marchese claims that the twins signed a document barring them from suing fellow cast members.
Whose side are you on? Let us know in the comments!