Pregnant Kourtney Kicks Out 'Pathetic' Scott With An Ultimatum: 'Unless You Want To Be Sober, I Don't Want You Here'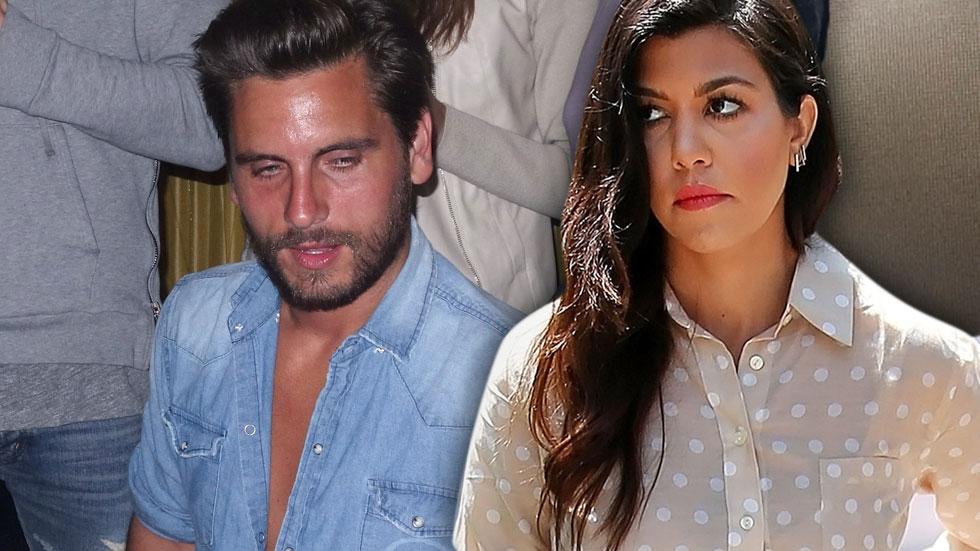 While Kourtney Kardashian has disapproved of baby daddy Scott Disick's hard partying behavior for years, she finally gave him an ultimatum and kicked him out of their home on Sunday night's season premiere of Kourtney & Khloe Take The Hamptons.
The Keeping Up with The Kardashians spin-off showed the pair arguing bitterly over Disick's desire to make boozy public appearances, which Kourtney (who is pregnant with the couple's third child) believes could kill him.
Article continues below advertisement
Kourtney wouldn't forgive Disick for abandoning her and the kids to host a wild club event and threw him out of their rental house in the Hamptons.
And in a shocking moment, viewers of the new E! reality show also saw Disick popping an anxiety pill on camera!
On Sunday night, the show opened with Kourtney, 35, eagerly anticipating spending quality summer family time with Disick, 31, their kids Mason, 4, and Penelope, 2, and her sister Khloe Kardashian, 30.
Kourtney told the cameras because Scott got "out of control" partying earlier this year in Paris.
"We have set boundaries while we're here this summer.," she said. "He shouldn't be doing appearances: We're here to relax and have family time."
But Disick and Khloe soon commiserated about how Kourtney's plan left them both bored senseless in the Hamptons.
Disick confided in Khloe, however, that for him the problem went deeper -- it was difficult for him being on the East Coast because of the death of both his parents. As RadarOnline.com has reported, native New Yorker Disick's mom died last fall and his real estate developer dad, Jeffrey, passed away in January.
Article continues below advertisement
The TV "Lord" told Khloe about his anxiety over losing his parents and the impending arrival of his third child with Kourtney: "I want to jump out of my skin, it's that bad."
Then Disick popped a pill and when Khloe asked what it was, he admitted "an anxiety pill … it's for my anxiety but I take it at night just to sleep."
Disick revealed that he was only sleeping three or four hours a night.
"I know Scott has always had sleeping problems and always took sleeping pills," Khloe commented to the cameras. "I understand that he's trying to cope and I'm not sure what I'm supposed to do.
"I don't want to be too judgmental because I don't want him to not come to me and do something in secrecy but it is concerning me and I am getting a little worried."
Later, Kourtney told Khloe that Disick needed to decide "if he wants to be a lunatic around town."
As RadarOnline.com previously previewed, Kourtney informed her sister that she could no longer tolerate such behavior, and implied she'd break up with him if he didn't stop drinking.
Article continues below advertisement
"People have passed away from alcoholism and that's something that I need to stop right now with Scott," Kourtney told the cameras.
She also didn't want Khloe influencing him to go out.
Later, frustrated over his laziness, Kourtney asked her longtime partner, "What do you do? Tell me."
"I make cute kids. That's the only thing you care about in life anyway," Disick snapped. "Enjoy the good parts. The bad parts you leave alone."
The episode later showed Disick telling Kourtney he had accepted a hosting gig in New York.
Kourtney blasted him for being irresponsible and said it was "humiliating, embarrassing, and pathetic. If you go to the city, you should just stay there."
He wound up partying with rapper Tyga — who's now linked to Kylie Jenner — at the gig.
Meanwhile, Kourtney called sister Kim Kardashian to complain. Kim said she saw Instagram pix of Disick and Tyga partying the night away.
Article continues below advertisement
"How pathetic," Kourtney sighed.
Kim declared, "He has to be mindful he's a dad."
Kourtney moaned, "He can't even take care of himself, let alone take care of me or his kids."
Kim pointed out, "Every time you're pregnant, he does this."
Kourtney seethed, "Every time I'm pregnant, I hate him."
MORE: Reality Stars In Sex Tapes
Further, Kourtney told her sister, "I just want him to go away. He doesn't add anything to my life. I also don't want the kids to see their dad sleeping in all day and being drunk."
Kim implied she should give Disick a wake-up call.
And Kourtney did. When Disick came back to the Hamptons, a security guard told him his car wasn't allowed on the property. The guard finally allowed Disick to walk to the house where Kourtney appeared on the balcony.
"Unless you want to be sober, then I don't want you here," she told him. "People die because of these kind of issues. If you want to die then you can continue to act this way.
Article continues below advertisement
"Become somebody that could take care of us because you can't even take care of yourself."
A disgusted Disick stormed off.
On Sunday's episode, fans also saw Khloe abandoning Kourtney to spend time with her boyfriend, French Montana.
The rapper spent the night with Khloe in the Hamptons and later, she accompanied him as he performed at the MTV Awards in South Africa.
"He makes me laugh nonstop and I just want to laugh right now, I want to have fun," she said.
As RadarOnline.com readers know, Khloe split from Montana but recently, there has been talk of reconciliation.
Watch the video on RadarOnline.com
And the two weren't shy about showing off their sexual heat on Kourtney & Khloe Take The Hamptons! On their way to the South African awards show, Montana ogled Khloe's shapely bottom and said, "That a** from the back, I ain't gonna lie, amazing."
Khloe replied, "Thank you. God Bless!"