Still In The Dog House: Pregnant Kourtney Kardashian Orders 'Alcoholic' Scott Disick To 'Grow Up,' Threatens To Leave Him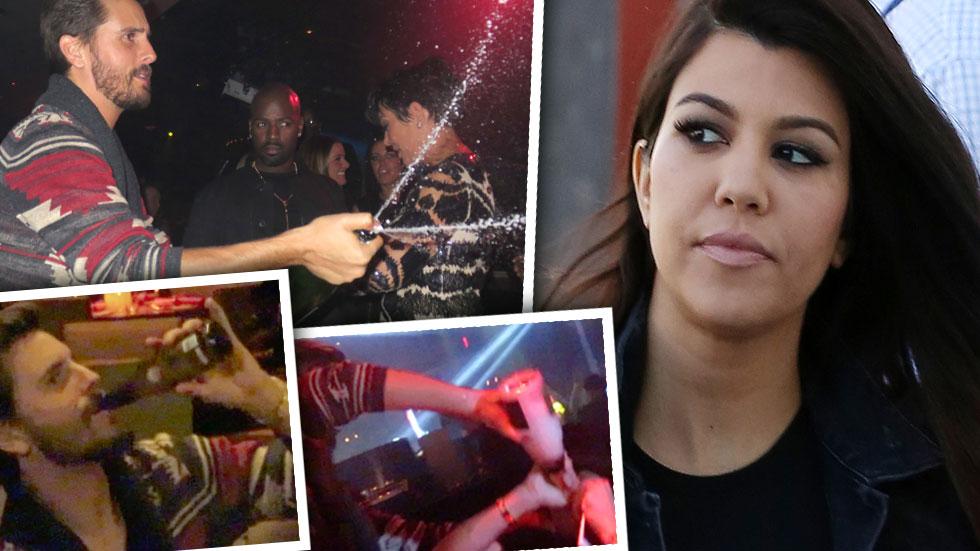 Kourtney Kardashian let Scott Disick move back into their home — but warned her 'alcoholic' baby daddy that "it's time to grow up" — on Sunday night's episode of Kourtney & Khloe Take The Hamptons.
She also confided in her sister Khloe she'd leave Disick if he didn't get his act together.
Viewers saw Kourtney tell Disick — after she'd banned him (and Khloe) from their Hamptons rental house — that she didn't appreciate his "work" making boozy personal nightclub appearances.
Article continues below advertisement
"Who in the world thought that there would be a career based around that?" marveled the professional party boy, who clearly enjoys his line of work.
"And who in the world thought a drunk like you would take it upon themselves to make that their career?" sighed Kourtney, 35, who is expecting their third child.
"I get paid to chill," bragged Lord Disick, 31.
"Not to chill: To party, smoke, get wasted, barf all night," Kourtney said.
Khloe, 30, felt her sister should compromise with Disick, who lost both his parents last year, but Kourtney informed her, "He is an alcoholic. Once he's out, he has no boundaries, wants to go out 'til seven in the morning."
She snapped at him: "Get it together!"
Disick shouted, "Your rules are bullsh*t!"
"I am so tired of having the same fight over and over," Kourtney told the cameras. "We set boundaries together and then he breaks them. I have no clue what to do anymore that I haven't already done."
Article continues below advertisement
Although Kourtney allowed Disick back into their Hamptons home, things were tense throughout the episode.
As RadarOnline.com has previously reported, Disick wanted to sleep in Khloe's bed after Kourtney kicked him out of their room due to his insomnia. At one point, Disick wound up sleeping on the bathroom floor. Kourtney wouldn't let him sleep in the guest bedroom, either, because it was earmarked for sister Kim Kardashian (who didn't appear on the episode).
Khloe suggested couples' therapy, and Kourtney said they'd done that before and it hadn't worked.
Kourtney said Khloe loved seeing the fun part of Disick, but knew little about how "he gets out of control."
On Christmas Eve, Kourtney revealed to her sister, Disick had gotten drunk and fallen into a Porta Potty.
She confided in Khloe that sometimes she'd rather be alone and declared, "Scott's so unpredictable." Kourtney even said she'd leave Disick if he couldn't get it together.
Article continues below advertisement
Khloe worried in confessional, "I don't want this to be the end of Kourtney and Scott."
Later, Kourtney showed her anger at a tennis court by cranking up the ball machine and firing lobs at her baby daddy.
Kourtney then drove away, leaving Disick and Khloe stranded.
Back at the house, Khloe asked why she'd ditched them at the tennis court.
"You take his side on everything," Kourtney complained.
Khloe told her, "I only want to be on your side — you don't keep me in the loop so I don't know what's really happening."
Disick then told Kourtney he was thinking about buying a boat so he'd have a place to sleep.
"Why don't you get it together and stay here?" Kourtney asked her longtime partner.
Disick pointed out she was making him uncomfortable in the house and blasting tennis balls in his face.
Kourtney replied, "Obviously I've been frustrated with you but if you got your stuff together, then maybe I wouldn't have to shoot tennis balls at your face."
Article continues below advertisement
He said he understood, and she warned, "It's time to grow up."
"I just want to be a Toys 'R' Us kid," he joked.
Kourtney told the cameras they would try to get along and, appropriately, "Take it one day at a time."
"What you're saying is, we got a chance," Disick smiled at her.
But was it the calm before the storm? A preview of a future Hamptons episode revealed Disick was rushed to the hospital after swallowing a bottle of pills!
Also on Sunday's episode, Khloe confided to Disick that she considered rapper French Montana her boyfriend and they laughed about her becoming Mrs. Kharbouch (Moroccan Montana's real name is Karim Kharbouch).
PHOTOS – 10 Cougars Who Have Gone Under The Knife
"I like Khloe Montana," she said.
Khloe later said in confessional she was having lots of fun with French: "He's always happy. I've never seen him in a bad mood and that's infectious."
Watch the video on RadarOnline.com
Kourtney & Khloe Take the Hamptons airs on E! Sunday at 9/8c.