Exclusive
'I Will Kill You B**ch!' Taryn Manning's Alleged Death Threats Against Former Gal Pal Exposed — Plus New Restraining Order!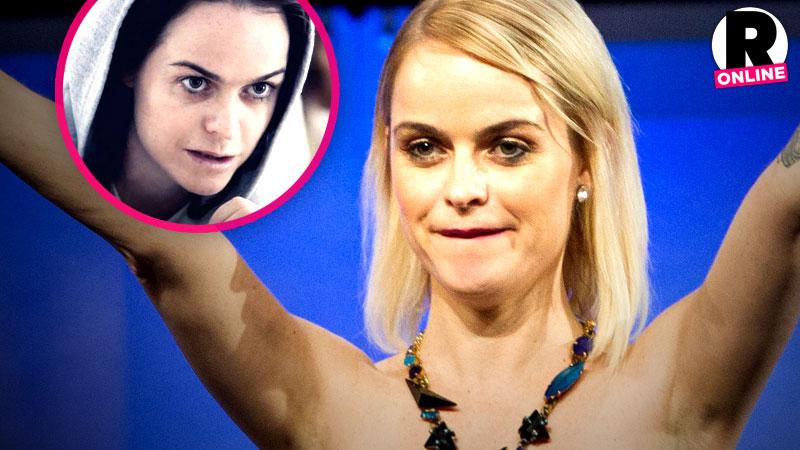 Taryn Manning's personal life is becoming more dramatic than an episode of Orange Is The New Black!
Four months ago, the 35-year-old actress filed stalking charges against gal pal Jeanine Heller and received an order of protection, but RadarOnline.com has learned exclusively that those charges have been dismissed per a plea deal. In a new twist, according to documents obtained by RadarOnline.com, Heller was subsequently awarded her own temporary restraining order against Manning after allegedly receiving death threats!
Article continues below advertisement
Now, in her first interview ever, Heller is opening up to RadarOnline.com about the headline-making scandal and the true nature of their relationship gone horribly wrong.
"It was really traumatic for myself and for my family," Heller told RadarOnline.com.
According to reports, Heller was first arrested in July when Manning accused the former gal pal of cyber-stalking her. Manning also claimed in court docs that Heller tried to make her paranoid by making her believe that another friend was selling secrets to the press.
But on October 6, a New York City judge ruled to dismiss the charges against Heller after she accepted a plea for second degree contempt.
"The simple fact is that Ms. Heller pleaded guilty solely to one count of misdemeanor criminal contempt," her attorney Jeremy Saland told RadarOnline.com. "The contact that gave rise to this plea contained absolutely no threats of any kind and transpired after Ms. Heller received an emailed photograph from Ms. Manning."
Article continues below advertisement
Heller said she doesn't know how it got this bad.
"To tell you the truth, I don't understand the motive," Heller told RadarOnline.com, adding that the two weren't just friends, but roommates.
"We moved in together really quickly. Taryn lived with me for a bit," she revealed.
The two went their separate ways in February 2013, but remained "really good friends since then," said Heller. "I helped her move back to L.A. and said she could leave some things at my apartment because she'd be coming back to New York for Orange Is The New Black."
But things went downhill when Heller tried to give Manning back her stuff.
"I only wanted to get her help and want the best for her, but there was some arguing back and forth on text because I did want her to get the property out of my place," said Heller. "I offered to pay for storage and she kept giving me the run-around. I sent her a 30-day notice to move it and then I threw some stuff out and donated the rest."
Article continues below advertisement
"She took our arguing back and forth on text to the police," Heller said. "It was definitely two-sided."
Heller said throughout the legal ordeal, she has never wanted to slam Manning, but only wanted to defend herself against all the "lies."
"When you have false charges being pressed against you, the only thing I had was the truth," she said. "I didn't go on a campaign to harm her, but with the lies told about me, I was arrested and put in jail from this person I haven't done any wrong to."
"I never stalked Taryn. I never harassed Taryn. Like I said, it was back and forth arguing to get her stuff out of my place. I never threatened her or said anything angry. But what I received was shocking," she insisted.
After Heller's first arrest in July, Manning was granted a restraining order. But that didn't keep the 8 Mile star from contacting her supposed stalker, according to Heller.
"Taryn emails me, starts liking my stuff on Twitter. First she tried to argue with me to bait me -- it's a very cruel game -- and going online to defame my name with the most disgusting lies," Heller claimed.
Article continues below advertisement
"I was receiving texts from her asking me what I want when she filed charges. What do I want to make this end?" she added. "In my mind, I wanted these false charges dropped.
"In August, I received an email and text from her. I thought stupid me, maybe she came to her senses and wanted to end it, and I called her," she said of her actions that violated the protective order which ultimately led to her second arrest in September.
Per the guilty plea to second degree contempt, Heller must to comply with certain agreements, according to her attorney, including returning to court in a year to withdraw her plea at which time she will plead to the non-criminal offense of disorderly conduct. Heller was also ordered to undergo six months of therapy.
"This plea is in full satisfaction of and dismisses as covered every other charge on both arrests, including those alleging stalking and harassment," Saland said. "If Ms. Heller is not compliant with the agreement, then she will not be able to withdraw her misdemeanor contempt plea."
Article continues below advertisement
Manning's messages allegedly escalated to such an alarming point that Heller sought a restraining order of her own, which a judge granted last Friday.
According to the temporary protective order, Heller claims Manning sent her a text on Oct. 25 stating: "Go f**k yourself and die."
And another sent on Oct. 28 allegedly read: "I will kill you b**ch. You aint protected. Omen. Die c**t!"
Other texts, she claims in the restraining order were written by Manning, also encourage her to commit suicide, saying "kill yourself" and "die b**tch."
Article continues below advertisement
"It showed me that this is a dangerous person that is capable of harming my life," Heller claimed. "I am fearful. Her actions are not that of sane person."
"She doesn't understand that what she has done has affected me for the rest of my life," she said, adding that she's being forced to move because Manning "knows where I live" and she's blocked her from all social media accounts. "It's horrible …"
Heller says the legal outcome is only "bittersweet."
"I feel vindicated. But wouldn't it have been great if none of this ever happened?" she asked.
"I won't understand it or have answers as to why she did this," said Heller, adding that she's considered filing a defamation lawsuit against Manning.
"But at end of the day, for me, the more time I waste thinking about it or putting any thought toward her or the situation is bringing negativity into my life," she continued.
Article continues below advertisement
"I wish Taryn well, but she has her own demons. I was trying to help her get healthy. She surrounded herself with negative influences. It was scary for me to see," said Heller. "I don't know if it's an obsession. I've done nothing wrong to her. If anything, I tried to help this person, I cared for her and embraced her. I don't know. It's just a sad situation."
Per Saland, the police investigation into the alleged text messages sent by Manning is ongoing.
"If what we provided holds true when they complete the investigation, celebrity shouldn't prevent someone from prosecution," he said. "Celebrity doesn't permit someone to use an order of protection as a sword instead of a shield."
Both parties will go back to court December 18, when a judge will determine if a final order of protection is necessary and Manning will be able to refute any allegations.
Article continues below advertisement
When RadarOnline.com reached out to Manning for comment, her rep provided a statement from the actress' legal counsel.
"On October 6, 2014, Jeanine Heller entered a plea of guilty to Criminal Contempt in the Second Degree, in violation of New York Penal Law Section 215.50," reads the statement. "Her conviction follows a months-long investigation by the Office of the New York County District Attorney and the subsequent arrest of Ms. Heller on criminal charges of Stalking, Harassment and Criminal Contempt."
The statement continued, "The crime of Criminal Contempt in the Second Degree to which Ms. Heller pled guilty is a Class A Misdemeanor which carries a sentence of one (1) year in jail. The terms of the plea agreement require that Ms. Heller receive a psychiatric examination, evaluation and counseling, and extends the previously issued Order of Protection to Taryn Manning, her family members and various other persons associated with Ms. Manning who were impacted by Ms. Heller's criminal acts. The Order of Protection prohibits Ms. Heller from contacting Ms. Manning by any medium possible: the previous Order of Protection was violated by Ms. Heller within days of its issuance."