Exclusive
Camille Grammer Files New Court Papers Seeking Temporary Restraining Order Against Ex-Boyfriend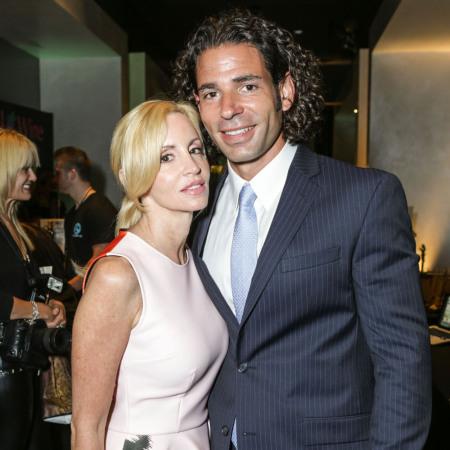 Camille Grammer has filed new legal documents in her bid to get a temporary restraining order against ex-boyfriend Dimitri Charalambopoulos, made permanent, and the documents reveal the Greek lawyer had been working as a personal fitness trainer, RadarOnline.com is exclusively reporting.
Two weeks ago, Camille Grammer was granted an emergency protective order against her ex-boyfriend Dimitri Charalambopoulos in Houston. Dimitri lives in Texas.
Article continues below advertisement
According to several declarations, Charalambopoulos asked several of his Malibu based clients to invest in Wellnetix, a health and wellness company. Both Larner, and Andrew Horton, another client of Charalambopoulos's, declined to invest.
Charalambopoulos's California attorney told the Santa Monica judge overseeing the temporary restraining case that her client had "no ties" to Southern California, and thought Grammer's bid to get one in California was unnecessary.
Article continues below advertisement
Larry Stein, Grammer's high powered attorney, also took issue with Charalambopoulos's attorney. He says during a phone call with Charalambopoulos's counsel, Lori Werderitch, he "never said, nor intended to convey, the sole reason my client, Ms. Grammer, sought a temporary restraining order and now seeks a permanent one was to protect herself and her children in Texas.
"Ms. Grammer has been traveling back and forth between California and Texas in connection with her treatment for cancer. She anticipates that those treatments will end around the first full week in January, and that at time, she will permanently return to California (where she resides) and seeks permanent protection on behalf of herself and her children from Mr. Charalambopoulos, especially in California."
Charalambopoulos has been banned since October in Los Angeles from having contact or going within 100 yards of Grammer or her children.
Grammer's ex-lover has been charged with assault of a family member and impeding breath, a felony in the state of Texas.
As RadarOnline.com first revealed, the charges stem from an incident in a Houston hotel room on Oct. 16 during which he is alleged to have slammed her head into furniture and grabbed her by her hair and repeatedly "pulled her head into the bed and headboard."
Article continues below advertisement
The alleged incident happened just days after Grammer had a radical hysterectomy to treat early stage endometrial cancer on Oct. 11.
Charalambopoulos has denied the abuse charges.
They Make How Much?! The 23 Highest-Paid Reality TV Stars
The ex-wife of Kelsey Grammer alleged in her TRO that Charalambopoulos "succeeded in pulling out swaths of my hair and gave me a large, painful contusion on the side of my head," then "squeezed my nose between his fingers and pushed upward forcefully, meanwhile covering my mouth in an attempt to silence me and to prevent me from breathing.
"I experienced great pain in my nose and became afraid for my life as a consequence," the reality star said, adding that "he wrestled me on the hotel bed, eventually succeeding in completely immobilizing me."