Exclusive
Camille Grammer Granted SECOND Protective Order Against Ex-Boyfriend After Alleged Abuse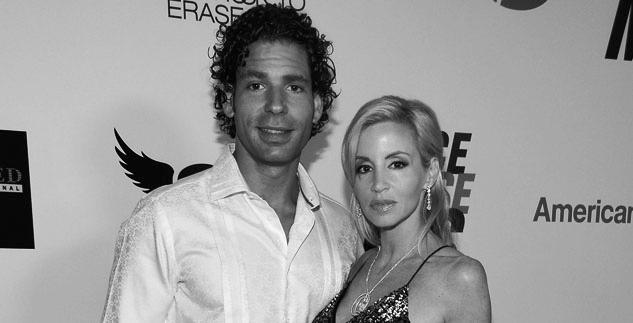 Camille Grammer has been granted an emergency protective order against her ex-boyfriend Dimitri Charalambopoulos in Houston, RadarOnline.com has learned.
It's the second court order preventing Charalambopoulos -- a 6'2″, 195 pound 36-year-old -- from going anywhere near the one-time Real Housewives of Beverly Hills star.
Charalambopoulos was already banned since October in Los Angeles from having contact or going within 100 yards of Grammer or her children.
Article continues below advertisement
Grammer's ex-lover has been charged with assault of a family member and impeding breath, a felony in the state of Texas.
He appeared in court in late November and posted a non-arrest bond of $5,000.
As RadarOnline.com first revealed, the charges stem from an incident in a Houston hotel room on Oct. 16 during which he is alleged to have slammed her head into furniture and grabbed her by her hair and repeatedly "pulled her head into the bed and headboard."
The alleged incident happened just days after Grammer had a radical hysterectomy to treat early stage endometrial cancer on Oct. 11.
Charalambopoulos has denied the abuse charges.
In court documents, the ex-wife of Kelsey Grammar alleged that Charalambopoulos "succeeded in pulling out swaths of my hair and gave me a large, painful contusion on the side of my head," then "squeezed my nose between his fingers and pushed upward forcefully, meanwhile covering my mouth in an attempt to silence me and to prevent me from breathing.
Article continues below advertisement
"I experienced great pain in my nose and became afraid for my life as a consequence," the reality star said, adding that "he wrestled me on the hotel bed, eventually succeeding in completely immobilizing me."
The emergency protective order was requested by Grammer and granted by the judge overseeing the Texas case.
Under terms of the protective order, Charalambopoulos can't have any contact with Grammer for 61 days.
Failure to do so, could result in additional criminal charges.
Meanwhile, Grammer is still pursuing a civil temporary restraining order against Charalambopoulos, in California, where she lives.
She had to refile the temporary restraining order on December 10 because her legal team had been unsuccessful in serving Dimitri in Texas, as RadarOnline.com revealed.
The judge re-issued the TRO in a Santa Monica courthouse and a new hearing date has been set for January 6, 2014.