Camille Grammer Hires 24/7 Bodyguards After Boyfriend's Alleged Beatdown -- She Fears He'll Attack Again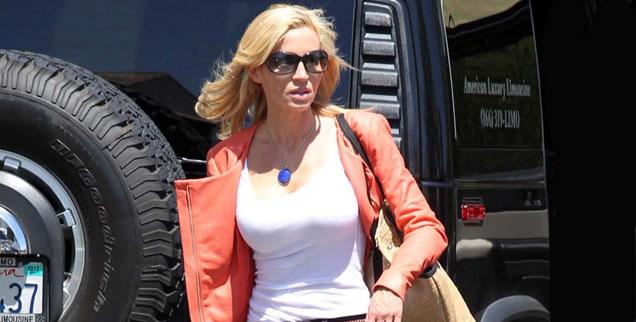 Camille Grammer has hired round-the-clock security guards to guard her home in the wake of her domestic abuse ordeal, RadarOnline.com has learned.
The Real Housewives of Beverly Hills star, 45, reacted to the incident with her ex-boyfriend Dimitri Charalambopoulos by swiftly ramping up the protection at her Los Angeles-area home.
In court documents filed in her successful request to obtain a restraining order against the Dallas-based bankruptcy attorney, the ex-wife of Frasier star Kelsey Grammar detailed her fears that she could be attacked again.
Article continues below advertisement
"I am informed and believe that there are numerous firearms... at his disposal," she wrote in the explosive filing.
"Mr. Charalambopoulos placed me in mortal apprehension, fearing that he would follow through with his threats to bash in my skull and to knock me unconscious. In so weak a state and faced with such a vitriolic and prolonged physical attack, any reasonable person would share that fear.
"Furthermore, by and through his actions, Mr. Charalambopoulos did molest, attack, strike, threaten, and batter me. He disturbed my peace."
The single mother-of-two added, "I wake up at least twice per night with visions of his face as he was attacking me. I continue to fear for my safety and for the safety of my children, who had grown to trust Mr. Charalambopoulos during the course of my relationship with him."
Article continues below advertisement
The reality star has already been spotted in Malibu, Calif., with a series of bodyguards, according to multiple eyewitness accounts.
"As soon as Camille returned from Houston, she hired the bodyguards," a source said.
"Security has been significantly increased at her home and Camille will keep the security detail in place for the foreseeable future. She isn't taking any chances."
Included in Grammer's request for the restraining order against her boyfriend of two years were nine black and white photos that were submitted to the Houston Police Department, showing what she has alleged to be the aftermath of Charalambopoulos' attack — including her smashed iPhone next to clumps of hair he had pulled right from her head.
A hearing on November 19 will determine if the restraining order will be made permanent.