Exclusive
Camille Grammer Domestic Violence Scandal: What Happened Inside Houston Hotel Room — In Her Own Words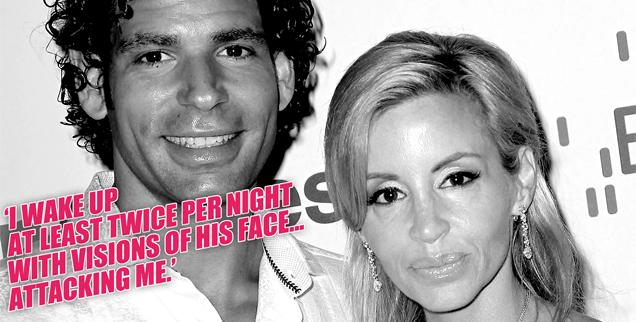 RadarOnline.com has obtained the full version of Camille Grammer's declaration as filed in a Los Angeles court, which details what allegedly took place inside a Houston hotel room on the morning of October 16, 2013, between her and her boyfriend, . This is the reality star's version of events — in her own words:
Mr. Charalambopoulos was my boyfriend of more than two years, during which time we traveled throughout the United States and abroad together, and Mr. Charalambopoulos would spend approximately every other week (and extended month-long periods during the summer) living with me and my children in my home in Malibu, California. I am informed and believe that he currently resides in Dallas, Texas, with members of his family in his parents' home. I do not know their address, but I am informed and believe that there are numerous firearms in that residence and at his disposal.
Article continues below advertisement
I recently was diagnosed with cancer. Guided in part by Mr. Charalambopoulos's familial and social associations in Texas, I selected a medical team in Houston, Texas, to perform invasive surgery and otherwise treat my condition to rid myself of this malady. On October 9, 2013, I traveled from my home in Malibu to Houston to undergo surgery, along with my mother, Maureen Donatacci, my friend Elizabeth Harandi, and my assistant, Scott MacLean. After spending one night at a Hyatt hotel in Houston, on the afternoon of October 10, 2013, we all checked into our own, separate rooms at the Hotel ZaZa at 5701 Main Street in Houston, which I selected as a place to prepare for and recover from surgery. My father, Joseph Donatacci, and aunt, Lucille Donatacci, also traveled to Houston to provide support at this critical moment, when I would be especially vulnerable and in need of assistance and care around the clock.
Mr. Charalambopoulos traveled to Houston from his home in Dallas, also to provide support. During the days leading up to my surgery, he was agitated and inconsiderate to me and my friends and family, expressing disdain for their presence and questioning why his presence was not sufficient support for me.
I underwent invasive surgery on October 11, 2013, to treat my cancer and was released from the hospital on October 13, 2013, when I returned to my room at the Hotel ZaZa to convalesce. My body was weakened from the surgery. Mr. Charalambopoulos shared my hotel room during my recovery.
Article continues below advertisement
Scarcely two days after being discharged from the hospital in this weakened condition, I was wakened at approximately 1.30 a.m. on the morning of October 16, 2013, by Mr. Charalambopoulos's mobile phone, which was vibrating with incoming text messages and phone calls from another woman. Inquiry escalated to argument, and Mr. Charalambopoulos became verbally abusive toward me, shouting expletives and insulting me with misogynic epithets. He grabbed me by the hair, twisted it around his hand, and repeatedly pulled my head into the bed and its headboard. In so doing, Mr. Charalambopoulos succeeded in pulling out swaths of my hair and gave me a large, painful contusion on the side of my head. All the while, I was screaming for help. Mr. Charalambopoulos squeezed my nose between his fingers and pushed upward forcefully, meanwhile covering my mouth in an attempt to silence me and to prevent me from breathing. I experienced great pain in my nose and became afraid for my life as a consequence.
This assault continued for approximately forty minutes to one hour. I begged him to stop and threatened to call the police. He wrestled me on the hotel bed, repeatedly slamming my head and face into the furniture, and eventually he succeeded in completely immobilizing me. Twice my size and of considerable strength (he is a fitness trainer by profession), he pinned me on my back. He placed his knees on my lower body, mere inches from the area that had been the object of my invasive surgery only a few days before. He grabbed both of my wrists in one hand and made a fist with the other, hovering it approximately six inches from my eye and temple. He said to me, 'I wanna smash your head in.' He also said, 'I'll give you reason to call the cops.' I was terrified.
Article continues below advertisement
I began to scream again, calling for help. To silence me, Mr. Charalambopoulos applied the bottom of his hand to my nose, thrusting upward to cause me pain, and covered my mouth. I began to believe he would kill me. Mr. Charalambopoulos succeeded in silencing me through threats of additional force. He intensified the verbal abuse. To prevent me from calling the police, Mr. Charalambopoulos destroyed my mobile phone by smashing it to pieces. He left me frozen in shock and fear on the bed and calmly walked about the room, unplugging and disassembling the telephones, hiding their components throughout the room so that I could not call for help. He told me I was going to hell, and then, to make his escape, he said he would 'knock me out' if I moved from the bed while he left the hotel.
I was in shock, bruised, battered, and injured on the bed. I remained there for approximately three minutes after Mr. Charalambopoulos left. Then, I collected myself and mustered my courage to seek help. I immediately hobbled down approximately four flights of stairs to the hotel lobby, holding my stomach in pain, and begged for help from a hotel employee, who called the police and alerted the rest of my party that there had been an incident. The police arrived, interviewed me, and left. Later that morning, at approximately 11:00 a.m. or 12:00 p.m., I returned to the hospital to see my surgeon again for an emergency examination to make sure I did not experience any complications or internal bleeding vis-a-vis my recent surgery as a result of the attack against me.
By his actions, Mr. Charalambopoulos intentionally attempted to cause and did cause me bodily injury. He ripped out my hair. I suffered bruising on my wrists, a large contusion on the side of my head, and scrapes and abrasions to my face and arms. Furthemore, Mr. Charalambopoulos placed me in mortal apprehension, fearing that he would follow through with his threats to bash in my skull and to knock me unconscious. In so weak a state and faced with such a vitriolic and prolonged physical attack, any reasonable person would share that fear. Furthermore, by and through his actions, Mr. Charalambopoulos did molest, attack, strike, threaten, and batter me. He disturbed my peace. I wake up at least twice per night with visions of his face as he was attacking me. I continue to fear for my safety and for the safety of my children, who had grown to trust Mr. Charalambopoulos during the course of my relationship with him. Mr. Charalambopoulos also destroyed my personal property, to wit, my mobile phone.