Exclusive
Kris Jenner Death Threats Spark FBI Raid! Agents Storm Hotel Room, Seize Woman's Electronics In Hacking Probe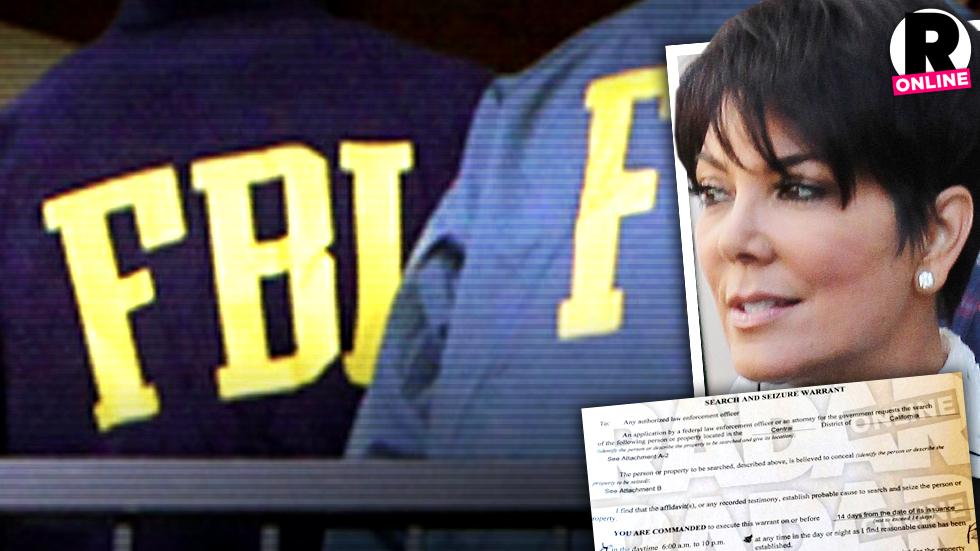 Kardashian momager Kris Jenner has allegedly found herself at the center of an FBI investigation that culminated in a high-stakes raid in Los Angeles Friday morning, RadarOnline.com has learned. The suspect of the investigation tells RadarOnline.com agents raided her Four Seasons hotel room with search and seizure warrants in hand, connected to alleged death threats made against the Kardashian matriarch.
According to the suspect — who tells RadarOnline.com she is not guilty of the crimes — she had let a friend use her computer over the course of the last eight months, and unbeknownst to her, the friend was making serious threats against Jenner and her family.
Article continues below advertisement
"On Friday morning I was asleep in my hotel room when I heard a knock on the door. I asked who it was and they said FBI," the woman told RadarOnline.com of the terrifying event. "I opened the door and was told to turn around, and was handcuffed, facing 12 agents with guns pointed at me."
After questioning the woman in an empty hotel room next door, the agents searched her room for more than three hours, seizing all of her electronic devices, including a computer, iPad, iPod and cell phone, she said.
Article continues below advertisement
"After the search I was taken into a room and was asked what I thought this was all about. I said I didn't know. They asked me if I use the Internet a lot and I said yes," she explained. "They told me it was about Kris Jenner and her accounts being hacked, her email being hacked, her iCloud being broken into and getting crank calls. I was flabbergasted."
According to the woman, the FBI informed her that this was all part of an ongoing months-long investigation and that they were seizing her electronics.
"They told me they'd been tracking me and had been building a case. They asked who certain people's cars were and about people they'd seen me with," she said. "I told them it was someone I let use my computer and laptop a lot over the course of eight months."
The woman told RadarOnline.com the FBI said the investigation also involved the hacking of Jenner's Instagram account, which was hacked in June with a message about how she doesn't like daughter Kim Kardashian's hubby Kanye West, or Khloe Kardashian's boyfriend French Montana.
"It was scary," she concluded. "I've never been through anything like that before!"
A rep for the Four Seasons declined to comment on the incident. Reps for Jenner did not respond to comment.
Story developing.