Body Of Boston Marathon Bomb Suspect Claimed, FBI Continues Investigation Into Widow And Laptop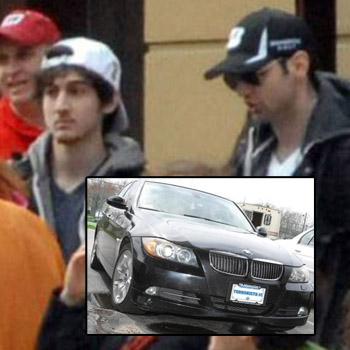 Almost two weeks after his death in a police shootout, the body of Boston Marathon bombing suspect Tamerlan Tsarnaev was released to a funeral home on Thursday, RadarOnline.com is reporting.
Department of Public Safety spokesman Terrel Harris said authorities were informed someone would be claiming the 26-year-old's remains that night, reported Fox News.
No more details were given and it is not yet known if it was claimed by a relative after his brother's uncle, Ruslan Tsarni, said earlier in the week that family members would take possession of the body.
Article continues below advertisement
"We'll do it. We will do it," he said. "A family is a family."
Meanwhile, the widespread investigation into the massacre continued as the authorities hoped to unlock secrets from one suspect's laptop, and insight from a call Tamerlan made to his wife.
Dias Kadyrbayev, 19, who was one of the three additional men charged this week, took alleged bomber Dzhokhar Tsarnaev's computer but handed it over to the FBI "the very first time" agents came to see him four days after the deadly attack, according to his lawyer.
The 19-year-old and fellow Kazakh UMass student Azamat Tazhayakov were charged with conspiracy to obstruct justice for taking the laptop and allegedly trying to dump a backpack full of fireworks, which had been emptied of their powder and also belonged to Dzhokhar, after they realized he was involved in the bombing, reported ABC News.
U.S. citizen Robel Phillipos was also charged with making false statements to federal investigators, which carries a maximum sentence of eight years and a fine of $250,000. They are all being held pending their next court appearance on May 14.
Article continues below advertisement
After recognizing Dzhokhar from pictures released by the authorities, Kadyrbayev told FBI agents that he sent text messages to his college friend telling him of the uncanny resemblance, who replied "LOL… You better not text me," and "Come to my room and take whatever you want."
The two Kazakh students are not accused of being part of the plot to set off the bombs, but the license plate on their black BMW that reads "Terrorista #1" has sparked angry backlash and cultural confusion.
"Terrorista #1 doesn't mean Osama bin Laden, doesn't mean 'terrorist.' In their slang it's means 'happy-go-lucky, a leader of the pack, that sort of thing' and not that they're going to blow someone up," Azamat's father, Amir Ismagulov, said in a recent interview with a Kazakh television station, according to Boston.com. "They drove around in that car for four months and no one arrested them."
The FBI is also keen to find out what Tamerlan told his now widow, Katherine Russell, in a phone call shortly after the FBI released his photo to the public three days after the explosions that killed three people and left over 200 wounded.
While it has not yet been confirmed whether the 24-year-old from North Kingstown, Rhode Island, has been officially interviewed by federal agents, her attorney Amato DeLuca informed RadarOnline.com via an email statement:
"In the coming days, Katherine will continue to meet with law enforcement, as she has done for many hours over the past week, and provide as much assistance to the investigation as she can."