Meow! Relive The Top Craziest 'Real Housewives' Reunion Moments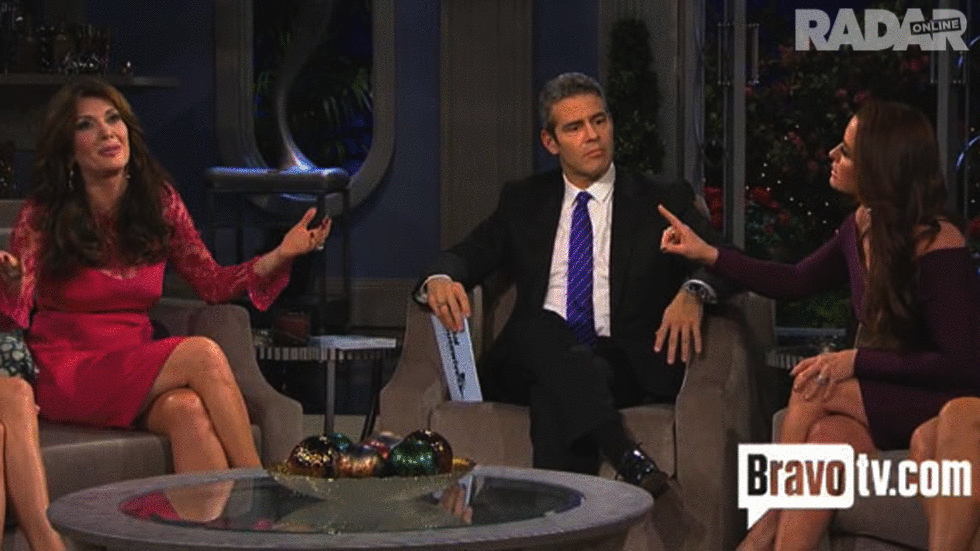 Bravo's Real Housewives are known for their feuding, fighting and finger waving, and never is their behavior more extreme than on the famed reunion shows. Check out RadarOnline.com's gallery of the top 20 craziest housewife reunion moments.
Article continues below advertisement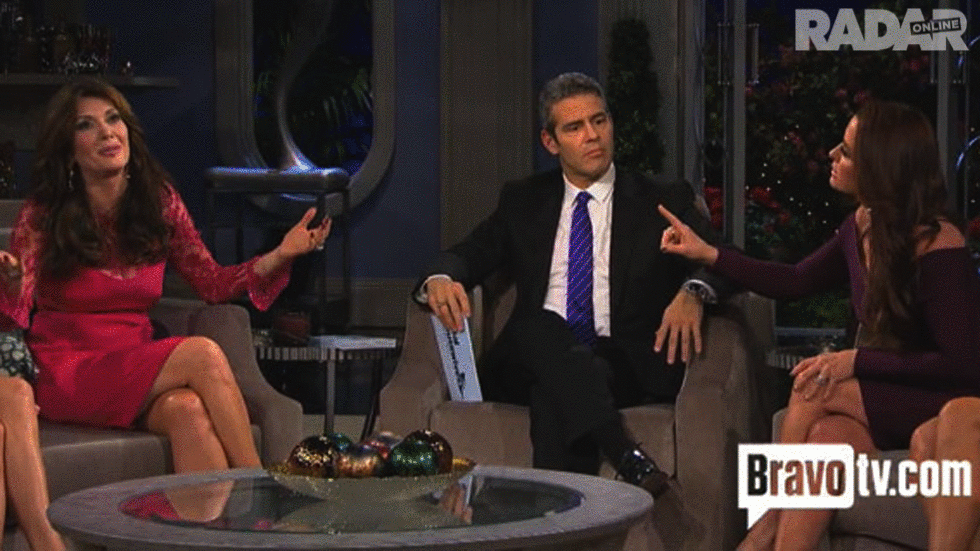 danielle staub caroline manzo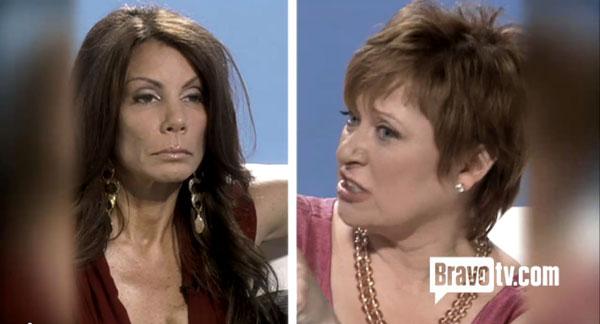 RHONJ: Caroline Manzo Is Staub-ed In The Heart: Danielle Staub was a lightning rod for controversy on the New Jersey reality show, and it all came to a head during a reunion show when Manzo said she couldn't forgive her. Manzo wouldn't mention her exact beef, but pointed at Staub and charged, "You know what you did" and cried, "You will never be a friend of mine!"
Article continues below advertisement
kim irchards drinking problem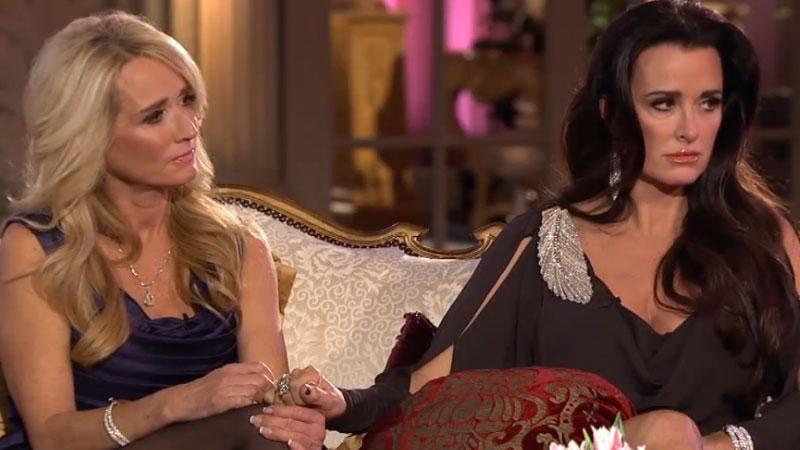 RHOBH: Kim Richards Speaks Out: Andy Cohen boldly asked Richards if she had a drinking problem during a reunion segment. The reality star who spent time in rehab admitted she didn't watch some episodes of the show that depicted her looking loopy. Richards gulped that she didn't want to see "behavior that wasn't me."
Article continues below advertisement
nene leakes and sheree trump checks
RHOA: Trumped?: It got epic when NeNe Leakes and Sheree Whitfield started shouting at each other on a reunion show about money. Whitfield claimed Leakes bragged about the money she had made on "Celebrity Apprentice." Leakes denied to Andy Cohen that she had talked about her"Donald Trump money."
Article continues below advertisement
Kelly Bensimon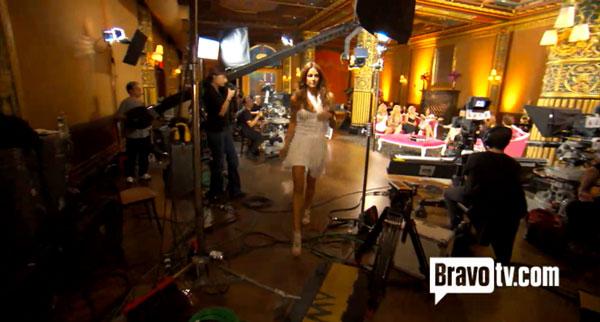 RHONYC: Kelly Bensimon Catwalks Outta There: One NYC reunion got tense when former model Bensimon claimed she was persecuted on a girls' getaway during the season. Her co-stars cried foul and even host Andy Cohen was appalled after Bensimon said, "I was forced by Bravo to go on the trip." Cohen strongly denied the charge, and after Bethenny Frankel said Bensimon had psychological problems, the ex-model dramatically walked off the reunion set.
Article continues below advertisement
danielle staub hugs teresa and jacqueline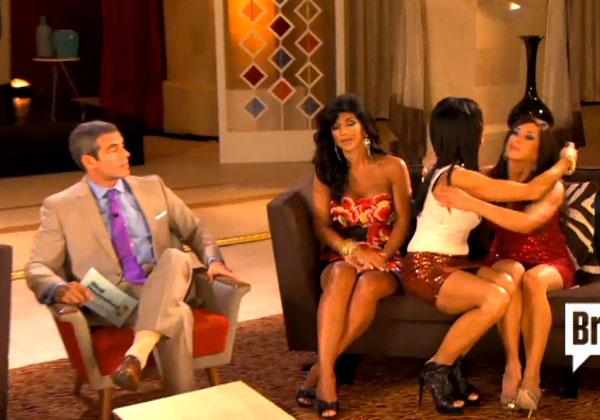 RHONJ: Danielle's Hug: Sh*t stirring reality star Danielle Staub stunned her hostile co-stars by deciding to hug out her feuds! After Teresa Giudice promised she wasn't trying to take her down, Staub hugged her and then embraced Jacqueline Laurita, too. Reunion show audio captured Stab whispering to Laurita, "I'm moving on and I'm in a happier place. I'm sorry for what I did to you. I love you."
Article continues below advertisement
tamra versus slade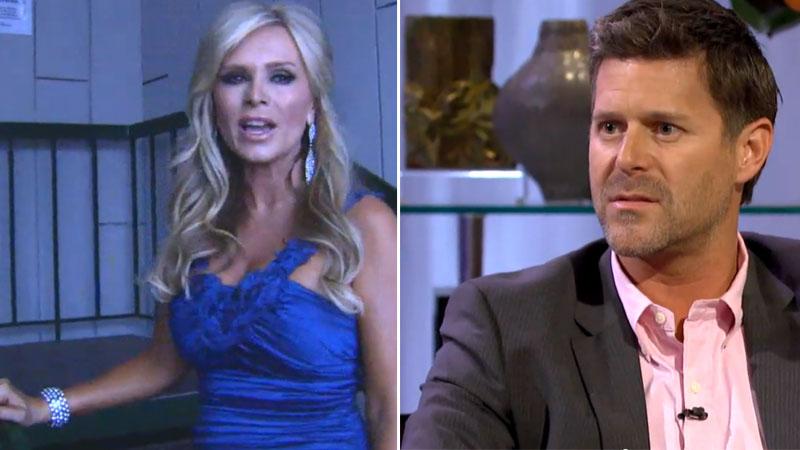 RHOC: Get A Job! Tamra Barney's bad relationship with Slade Smiley culminated in a bruising reunion battle. She told Smiley, who reportedly owed child support to his ex-girlfriend, that he should get a real job to take care of his son. But then Smiley told Barney she was "sucking off everyone else," and she went ballistic. Storming off the set, Barney told the cameras, addressing Smiley, "You've seen your kid ten times in one year, you f*cking piece of sh*t."
Article continues below advertisement
Joyce Kandi Burruss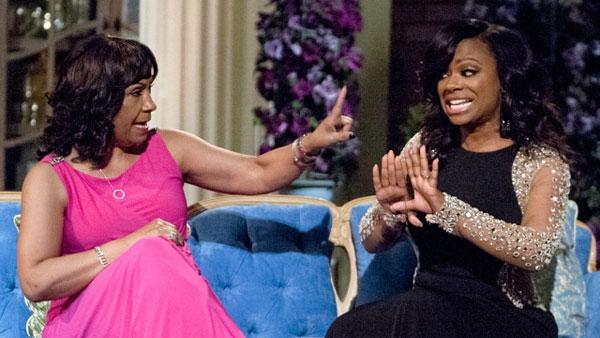 RHOA: Sweet On Kandi's Money?: At the 2014 Atlanta reunion, Kandi Burruss' meddling Mama Joyce, who called Kandi's fiancé Todd Tucker an opportunist all season for wanting to marry the wealthy singer, admitted her daughter had been giving HER money! Burruss sighed, "You had credit cards in my name I did not know about." Mama Joyce also purred to Andy Cohen, flashing an 18-carat ring, "Mama got every kind of diamond that you want to think of."
Article continues below advertisement
Kyle Richards Lisa Vanderpump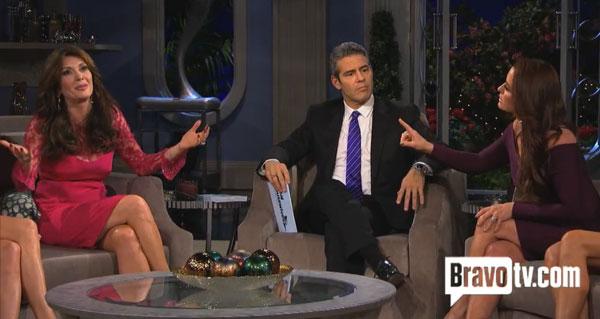 RHOBH: Kyle Richards Drops The F Bomb: Richards shocked viewers on the 2014 RHOBH reunion when she called out Lisa Vanderpump for her "lies" and dropped the f-bomb against her co-star. Richards cited accusations that Vanderpump tried to bring copies of the tabloids that had stories about Richards' husband's alleged cheating on a housewives' trip. "You know that when you bring it up, we're giving it a platform – and now it's a whole f**king season of lies about my husband, who doesn't deserve it! That's wrong!" Richards scolded Vanderpump.
Article continues below advertisement
kim zolciak wig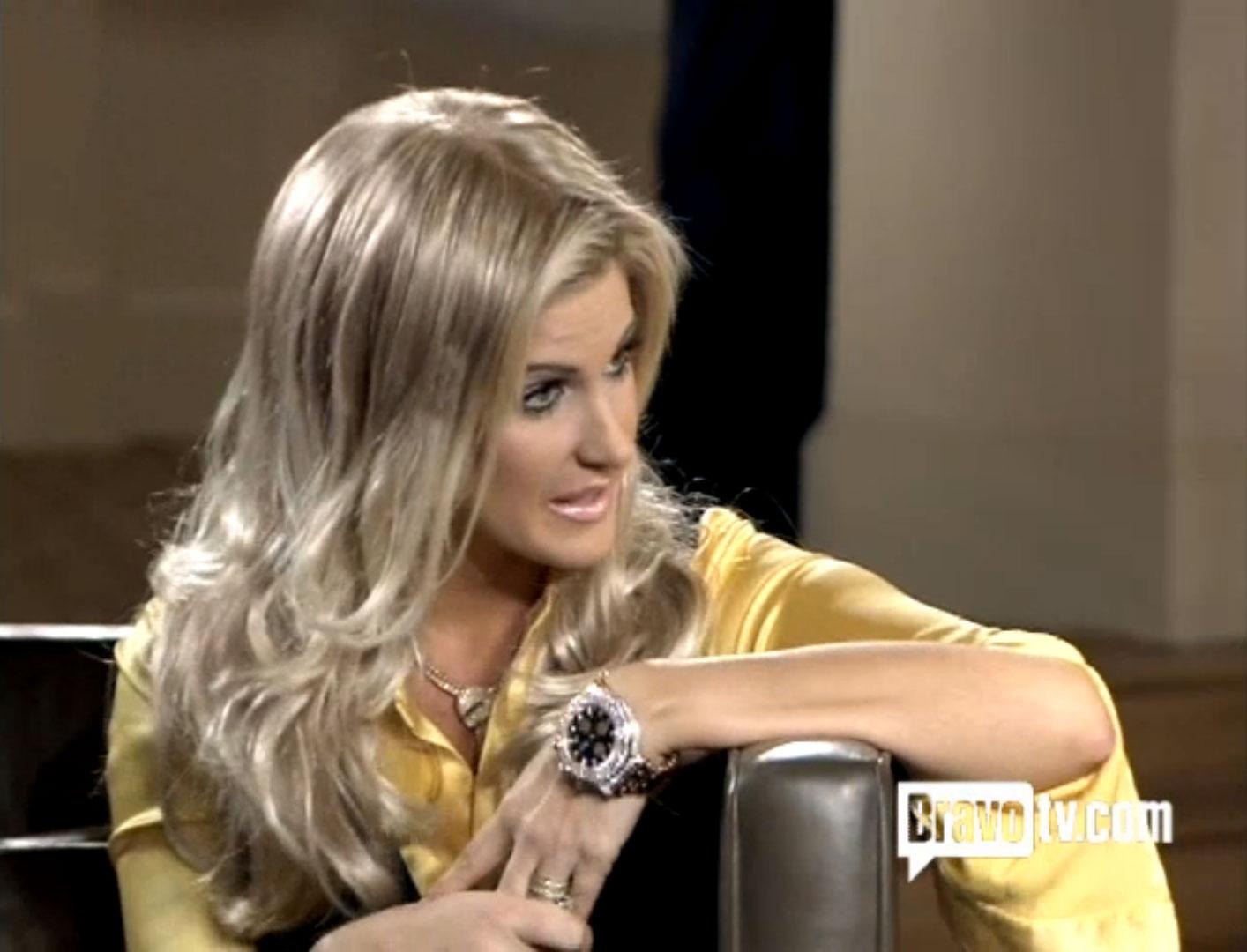 RHOA: Kim Flips Her Wig: During the first season reunion of RHOA, Kim Zolciak blasted NeNe Leakes, who had made fun of her for wearing wigs. Zolciak dramatically told host Andy Cohen she wore hairpieces because her hair fell out due to an illness she thought was cancer. When Cohen asked for more details, Zolciak said it wasn't cancer after all, but cried, "It was the most traumatic time of my life."
Article continues below advertisement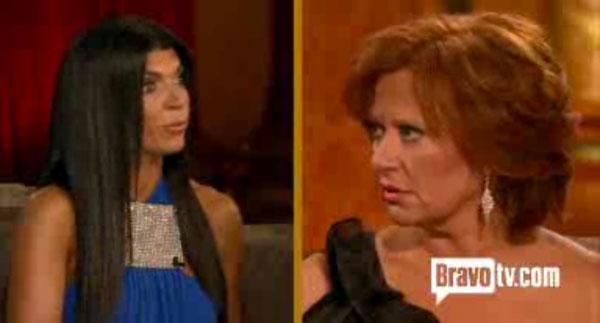 RHONJ: Manzo Family Feud: At one of the many New Jersey reunion shows, Caroline Manzo flipped her lid about Teresa Giudice stirring up trouble between Caroline and her sister, Dina Manzo. "She doesn't want to see you," Giudice sneered. Caroline admitted to Andy Cohen she hadn't spoken to her sister Dina in months and blamed Teresa. "You are full of sh*t," she told Giudice, who returned the insult!
Article continues below advertisement
Taylor Armstrong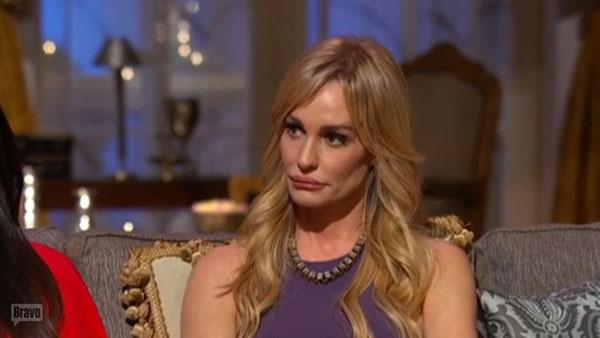 RHOBH: Taylor Armstrong Breaks Down: Tears flowed when the Beverly Hills ladies got together for the reunion show that aired in 2012. Taylor Armstrong discussed how her husband, Russell, had killed himself, leaving behind her and daughter Kennedy. Armstrong cried to Andy Cohen about abusive Russell, whom viewers had seen on RHOBH, "I loved this person and I miss him terribly…but he was a narcissist."
Article continues below advertisement
joanna krupa lisa hochstein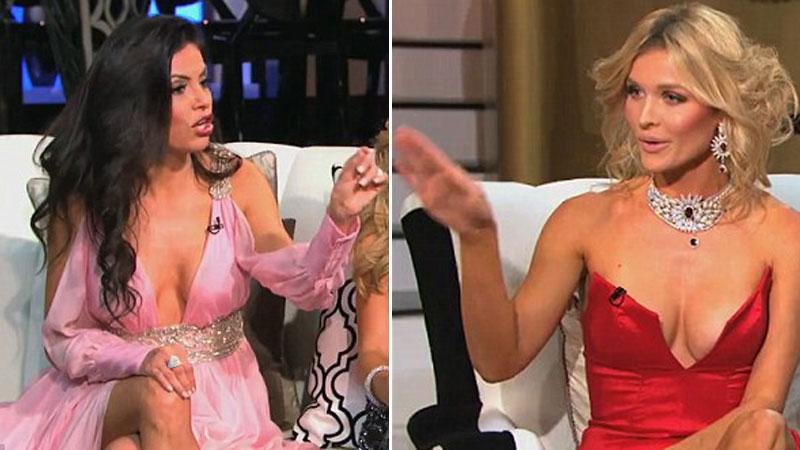 #18: RHOM: Working Girl?: Lisa Hochstein accused frenemy Joanna Krupa of being "a hooker" during the Miami gals' reunion in 2013. Hitting below the belt, Hochstein told Krupa, "People have told me that you've been a hooker." Joanna asked her who the source was, but Hochstein refused to divulge that, saying, "I'm a bigger person than she is and I have a conscience and I have a heart." Oh, yeah? Krupa staunchly denied she was ever a prostitute.
Article continues below advertisement
David Beador Vicki Gunvalson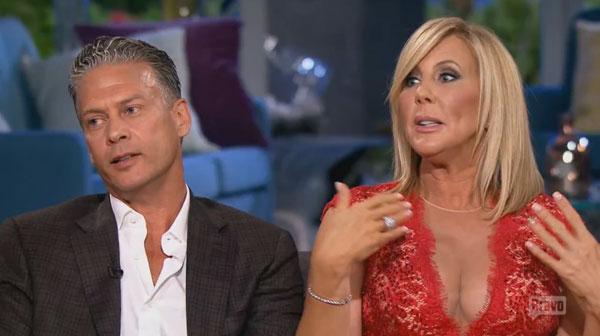 RHOC: Vicki Reveals A Flirtation: In a 2014 reunion surprise, Bravo first lady Vicki Gunvalson revealed she and David Beador, the husband of her co-star Shannon, had done some heavy-duty flirting. Gunvalson told the group, "He said, 'What color bra do you have on?' I'm like, 'I don't know.'" Gunvalson added, "He's sexy and he's hot," as his wife Shannon looked steamed. David apologized to Shannon.