Jail-bound Apollo Nida Admits He Lied To Wife Phaedra Parks That Kenya Moore Had Offered Him Sex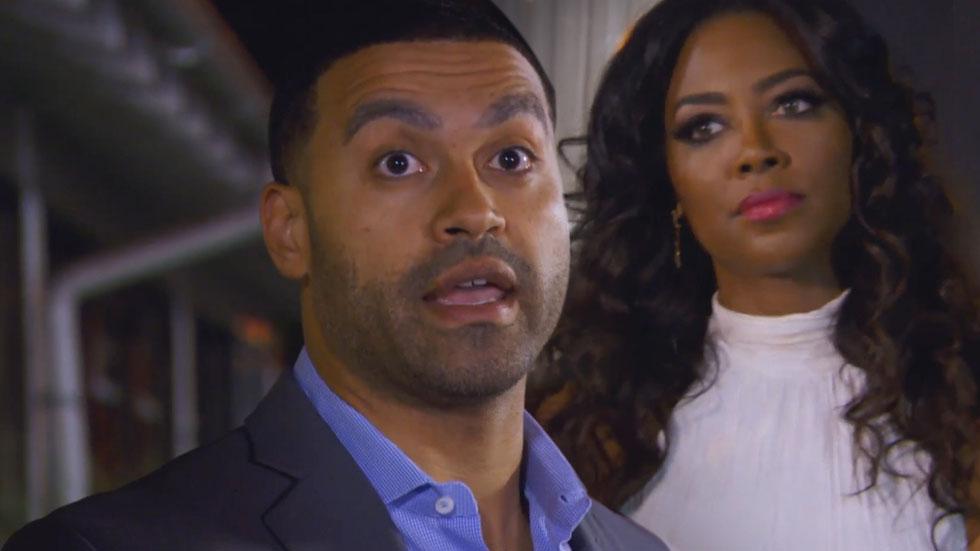 Before heading to prison, The Real Housewives of Atlanta star Apollo Nida was determined to admit another mistake.
On Sunday night's episode of the hit Bravo reality show, Nida admitted that he had lied to his wife Phaedra Parks that their co-star Kenya Moore had offered him oral sex.
In the wake of his crimes, Parks and Nida split up and are heading for divorce.
But as fans know, Nida has maintained for ages that Moore propositioned him when they were both allegedly in Los Angeles at the same time, a claim she staunchly denied.
Article continues below advertisement
Listen! 'RHOP' star Wendy Osefo breaks down the "most intense fight in the show's history" in under 2 minutes.
Attorney Parks appeared to believe her husband's story that he could have "slept with" Moore but he'd turned her down. She retaliated by calling Moore a wh*re, and RHOA co-stars largely supported Parks through the feud.
But Sunday's episode shined the light on Nida, who began serving an 8-years prison stint in September, after he pleaded guilty to bank fraud and identity theft.
The truth came out as Nida showed up at a party honoring Cynthia Bailey's photo spread in Ebony magazine.
Although Moore didn't want to talk to him, Nida attempted to wipe the slate clean with her before he had to start serving his time.
Nida said as Moore stood outside the party, "I apologize if I ever offended you."
The former Miss USA replied, "You lied about me."
Then Nida made a stunning admission: "I should not have told my wife that you offered me fellatio."
Article continues below advertisement
Moore got furious with him and then he walked back into the party, where Bailey, who had witnessed the bizarre apology, had already told the other RHOA stars what had happened.
A shocked Kandi Burruss asked Nida, "Did you tell Phaedra that you lied?"
Nida said no, he hadn't had the opportunity.
"I can't defend you, brother," Burruss' husband Todd Tucker sighed.
Nida, who has blamed Parks for his legal woes, went back outside the club to talk to Moore again, where she demanded a more specific apology.
He admitted she had never propositioned him: "It was a lie. I was mad at a lot of things."
An emotional Moore told the jailbird, "You don't get what I've been through because of the things you said to your wife.
"She told all of these women I did those things. They really believed that … one thing I have never been is anybody's wh*re."
However, Nida contended that Moore had been guilty, too— of implying that he was trying to come on to her: "We're both wrong."
Article continues below advertisement
Moore then forced him to admit that he'd never seen her in L.A.
The ex-beauty queen told the cameras she felt vindicated but needed another apology -- from Parks, who had assumed for so long that Moore was throwing herself at Nida.
Meanwhile, in another Sunday storyline, viewers saw Burruss tell Tucker she was buying her Mama Joyce a new house and they might be neighbors, as they toured a seven-bedroom, four-bathroom home just down the street.
Burruss told her Mama, who famously disapproved of Tucker all of last season as they prepared to marry, that she wanted to have a child with him.
"Are y'all trying?" Mama Joyce asked.
Burruss said she hadn't been on birth control for a year, but nothing had happened.
"Are you sure Todd hasn't had a vasectomy?" Mama Joyce bizarrely asked her daughter, adding that she'd dreamt he'd had the operation.
Then Joyce refused to apologize to Tucker's mom Sharon for calling her a prostitute. "She called me the B word," Joyce recalled. "I'M due an apology. She escaped a good butt whipping."
Article continues below advertisement
The episode also introduced a new cast member, Moore's TV and radio hostess friend Claudia Jordan, who attended the Bailey party with her.
Watch the video on RadarOnline.com
The new gal laughed with Moore that she had checked her purse to make sure she still had her social security card after seeing Nida!
"His abs are going to be really amazing when he gets out," Jordan joked about the soon-to-be prisoner.
Meanwhile, Nida, who has said Parks abandoned him by not attending his sentencing, complained bitterly about his estranged wife to the other RHOA stars at the party.
"She's not going to bring the kids to see me," he moaned.
The Real Housewives of Atlanta airs Sundays at 8/7c on Bravo.