'She Called Me A B*tch! I'm Gonna Whup Her A**!' Kandi Burruss' Mama Joyce Ready To Rumble With Todd Tucker's Mom On 'Kandi's Wedding'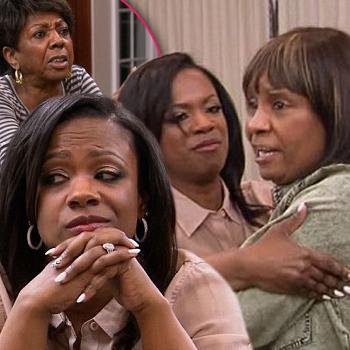 Kandi Burruss' meddling Mama Joyce won't back down!
The helicopter mother from hell justified the moniker on Sunday night's edition of The Real Housewives of Atlanta spin-off Kandi's Wedding, reiterating that she still doesn't want her daughter to marry fiancé Todd Tucker, and is ready to rumble with his mom, Sharon.
Tucker's mother had come to Atlanta for a little bonding time before the wedding, and stayed with her only child and bride-to-be Burruss.
Article continues below advertisement
That didn't sit well with Mama Joyce, who has previously called Sharon a prostitute.
The fur flew when Mama Joyce arrived for dinner with the threesome, with her sisters Nora and Bertha in tow.
While Nora gave Sharon a hug and kiss and laughed, "I'll take care of you," Mama Joyce and Bertha kept their distance.
"Sharon is a nonexistent person to me," Mama Joyce told the cameras.
Soon, she got aggravated upon learning that Sharon had been staying at Burruss' house for days.
Jealous Joyce said indignantly that Burruss had not allowed HER to stay there, to which Burruss explained that said she'd only banned Mama Joyce at a certain time when she had been stirring up trouble with her fiancé.
Sharon said they didn't need to talk about her spending time with her son, noting, "I know you speak very negatively of my child … stop threatening him," she said, in reference to Mama Joyce's alleged plan to set Tucker up by having him photographed cheating on Burruss.
Article continues below advertisement
"Shut the f*ck up!" Joyce shouted. "You're a damn liar!"
As RadarOnline.com previously previewed, after both women's fingers started flying through the air, Sharon shouted, "Get your thing out of my face. You got the wrong one now, b*tch!"
An enraged Mama Joyce yelled back, "Take your finger out of my face!" and Burruss and Aunt Nora had to hold her back from charging at Sharon.
Meanwhile, Tucker quickly ushered his mother into another room. "I need a shot of brandy," she told him.
Fraud, Feuds & Fights — 27 Reality Stars Who Are Out Of Control
Joyce then told the ladies said she was going to beat Sharon up: "She called me a b*tch! I'm gonna whup her a**."
Sharon sighed to Tucker out of Mama Joyce's sight, "I ain't seen anybody so ridiculous."
Watch the video on RadarOnline.com
Mama Joyce claimed she never hatched a plan to set Todd up — she was just going to pay for the cheating pictures, should they exist.
Article continues below advertisement
Tucker told the Bravo cameras his mom was defending him.
But amazingly, Sharon and Tucker went back into the dining room and calm was restored.
"We're just two b*tches shaking damn fingers," Joyce admitted.
That doesn't mean she approves of the wedding, however!
"I don't feel like Todd's the man for her to be happy with," Joyce told the cameras.
Then Tucker lightened the mood by joking to the ladies, "Did Kandi tell ya'll? She's pregnant."
"No I'm not!" smiled Burruss, 38.
The singer wound up kissing her mother and telling the cameras, "She still wants to fight. All I can do is hope she comes around."
But earlier in the episode, Sharon had suggested that Mama Joyce needed some meds and laughed to Burruss, "Poor thing, just get married."
But it won't be easy as Sunday's episode showed Burruss has another big wedding feud on her hands — between Tan, her matron of honor, and Carmon Cambrice, her maid of honor.
Article continues below advertisement
Burruss revealed her two besties just tolerated each other for her sake, and viewers saw Tan and Carmon disagreeing about everything from the wedding cake to the dress.
"She's an expert in all things liquor," Tan sniped to cameras about Carmon's drinking.
Meanwhile, Burruss chose an incredible $2,700 cake, and fretted that designer Reco Chapple had not finished her dress just nine days before the wedding.
"The person who's hot shouldn't be next to the bride," Carmon said to the cameras, indicating Tan should stand next to Burruss during the ceremony!
Later, at a wedding party gathering, Tan ordered Carmon to apologize to Mama Joyce after the two had had their epic argument at a bridal salon on RHOA.
But Carmon had no intention of doing so, and sneered at Tan, "I'm good. So, bye, Felicia," referring to what Urban Dictionary calls "the random b*tch you don't give a f*ck about."
With a catfight about to erupt, Burruss' cousin Weenie intervened, saying, "Wait! Y'all need to squash this sh*t! Kandi love both of y'all! Let's do this for Kandi!"
After the others agreed, Tan and Carmon stopped arguing … at least until the next episode!