Mama Joyce Out Of Control On Kandi's Wedding: Blames Fiancé Todd Tucker For Daughter's 30–Pound Weight Gain, Again Calls His Parents 'A Pimp And A Prostitute'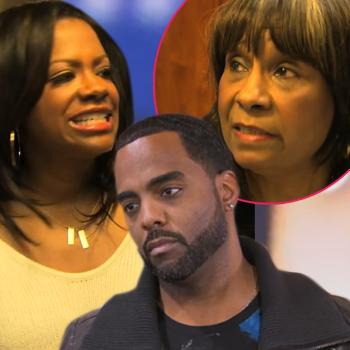 Kandi Burruss' meddling Mama Joyce was up to her usual tricks on the premiere of Bravo's Kandi's Wedding on Sunday night.
The reality show mom, who doesn't want her wealthy singer daughter to marry Todd Tucker, blamed Kandi's TV producer fiancé for letting Burruss pack on 30 pounds.
And later on The Real Housewives of Atlanta summer spinoff, Mama Joyce prodded Burruss about getting a prenup to protect her fortune. (As RadarOnline.com has previously reported, Mama Joyce also accused Tucker's mom of being a prostitute, and his father of being a pimp.
Article continues below advertisement
During the first episode of Kandi's Wedding, Burruss, 38, admitted she'd gained 30 pounds since meeting Tucker — and Mama Joyce later told Burruss' aunts, Nora and Bertha, that Tucker shouldn't have let her get heavy.
"To me, Todd do NOT have Kandi's best interests at heart. Ain't no way he would be letting Kandi gain weight the way she's gaining weight," Mama Joyce sniffed.
One of Burruss' aunts pointed out that Oprah Winfrey was big — and also successful, but it didn't cut any ice with skeptical Mama Joyce.
In another scene, Burruss said to her mother, who recently lost 40 pounds herself, "If I can get down to your size, that would be good."
"You can," Mama Joyce replied. "You gotta love yourself."
Burruss smiled, "I do love myself . . . I love food, too."
Burruss and her mother had gone weeks without talking, and she claimed not to know her daughter had set her wedding date.
"What made you decide to rush the wedding so quick?" Mama Joyce growled.
Article continues below advertisement
"Because I wanted that date, 4/4/14," Burruss replied.
"Did you do your prenup?" Mama Joyce asked anxiously.
"Yes, I'm working on that now," Burruss assured her.
She then told the cameras, "I don't need my mother babysitting me through getting a prenup. I can handle it."
Mama Joyce was upset that Tucker's mom, Sharon, could go over to Burruss' house when she wasn't there — but she wasn't getting the same access to her daughter's home!
"Todd was raised by a pimp and a prostitute," Mama Joyce added viciously.
Burruss pointed out that Tucker's father is dead and asked, "Why are you assuming the worst?"
Mama Joyce indicated to the cameras she felt Tucker and his mother had latched onto Kandi's money, saying, "Cha-ching-cha-ching-cha-ching-ching!"
Earlier, during her lunch with Aunts Nora and Bertha, Mama Joyce elaborated on her claims against Tucker's mom, saying, "Daddy was a pimp, mama was a hoe.
Article continues below advertisement
"She was a working girl," Mama Joyce told the cameras. "All of us mothers do what we have to do to take care of our children — I hustled getting up at 2 o'clock in the morning — some people hustle being out on the street at 2 o'clock in the morning."
Also on Sunday's episode, Burruss' assistant and friend Carmon Cambrice, and her production coordinator Johnnie, made a mess of planning of the Coming to America themed wedding.
After seeing the chaos, Tucker stepped in and read Cambrice the riot act, and she then had a heart-to-heart with Burruss that made the RHOA star cry.
"We've been friends over 20 years! What the f*ck is going on!" reluctant wedding planner Cambrice asked Burruss.
Watch the video on RadarOnline.com
The Kandi Factory singer screamed back, "If you don't want to do it, don't do it!"
Viewers also saw Atlanta designer Reco Chappele agreeing to design Burruss' wedding dress — and the eight bridesmaids' gowns — for free!
However, Burruss' friend, Tan, didn't like Chappele's style and told Burruss, "We need to run like hell."
Kandi's Wedding airs Sundays on Bravo at 8/7c.