Epic Feud! Cynthia Bailey Calls NeNe 'My Worst Enemy' While Leakes Blogs, 'I Have Carried U On My Back… Goodbye, Friend!'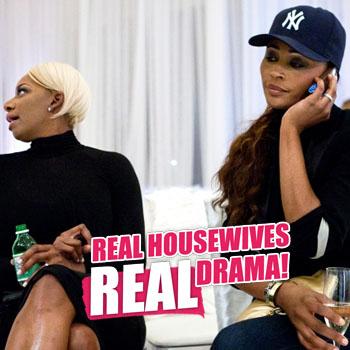 Article continues below advertisement
Among other things, Leakes commented of Bailey, "It's not like she's really bringing anything to the show… Girl, bye! "
And on Sunday night, Bailey was outraged and told Cohen that the housewives alpha dog was proved right because she was no friend of hers.
"I want people to know that I was a loyal friend to NeNe, however, I'm actually glad she did that show with you because it actually validated that she was never my friend," Bailey declared.
Faked Scenes, Lies & Payoffs – The Ultimate Guide To Reality TV Shows
"She's actually my worst enemy. For her to go on national television and say such things is just unheard of.
"So what, we're not talking anymore. That means now, all of a sudden, I can't be on the show because you don't think I should be on the show? NeNe doesn't control my destiny. God controls my destiny, and I was relevant before the show, I'm relevant on the show, and I'll be relevant after the show," Bailey said to audience applause.
Article continues below advertisement
Leakes had said Bailey was wishy washy, going wherever the wind blows, but the modeling agency owner fired back, "The wind is fine to blow as long as it's blowing up her a**."
"It's about respect and accountability. She never thinks she's wrong about anything and she never wants to admit when she's wrong," she added.
"When it comes to me, there was no respect and I respected her."
As RHOA fans know, Bailey was particularly irked when Leakes called her husband Peter Thomas a b*tch.
"A real lady doesn't call their best friend's husband a b*tch," she said.
Cohen mentioned that Leakes had just written an open letter to Bailey online, blogging that she should have spoken to her privately instead of dissecting their friendship during the reunion show.
"I have carried you on my back. Goodbye, friend," Leakes wrote on her Instagram account, also posting pictures of herself at various events with Bailey, and adding, "P.S., If U or anyone else thinks the demise of our friendship is your story line 4 for season 7, think again flip flopper."
Article continues below advertisement
Bailey responded, "NeNe is the one that doesn't have a storyline. If anything, she should be glad we got into it because that was her storyline this season."
Bailey, who was joined by singer Rita Ora on WWHL, asked why Leakes didn't address her privately, "Why didn't she pull me aside before she came on this show and tried to get me fired off the show?"
Cohen and Bailey also discussed the notorious RHOA reunion fight, in which Porsha Williams physically assaulted co-star Kenya Moore as the others looked on in horror.
Bailey was the only RHOA star who did not rush to Williams' side. Instead, she went to check on Moore. "She was the one that was actually attacked," Bailey pointed out.
"I didn't really side with Kenya; I just went to check on Kenya because the other ladies were checking on Porsha. Just to be clear about that, I didn't really pick a side. I thought the fight was horrible to watch and I don't condone violence and I think in a reunion setting, we're there to fight with our words."
Article continues below advertisement
Also, Cohen, who mentioned how Bailey's boob had slipped out during the reunion mess, admitted to viewers he'd gotten a lot of flak for allowing Moore to wield two props at the reunion — a scepter and a bull horn.
Dancing With The Jailbird: NeNe Leakes' Secret Criminal Past Is Revealed — See Her Mugshots!
"Looking back on it, I should have taken the bull horn away," he said. The talk show host explained that last year, Moore brought a fan for comedic effect and it had gone over well. He thought the scepter and bull horn would get a similar response, but the props made Williams irate, and she wound up attacking Moore.
"I'm sorry I didn't see it coming," Cohen said. "There will be no more props at reunion shows."
Cohen also explained to RHOA fans that the reason Williams didn't return for part two of the reunion show was that "she felt she was not ready for the emotional stress of the day and we listened to what she said and we didn't want to put her back into a situation in which she did not feel prepared emotionally and that she could potentially do something or say something that she didn't feel good about."
More humorously, Cohen speculated that Mama Joyce might have been drunk during the reunion show, but Kandi Burruss promptly tweeted him to say her mother has NEVER had a drink in her life!