More 'RHOA' Reunion Show Secrets Revealed: Housewives Take Sides After Explosive Brawl, Kenya Moore Says Porsha Williams 'Just Lost Control'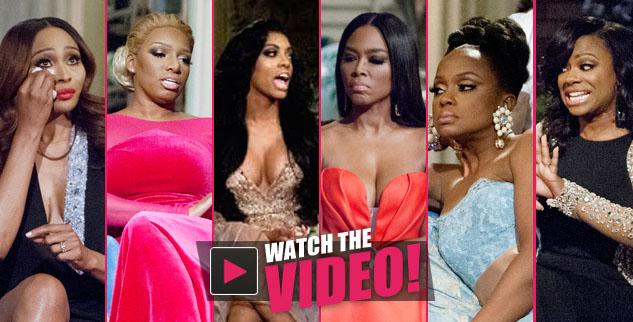 Article continues below advertisement
"What happened?" he asked Moore, 43, about the bizarre battle.
"Well, we were talking back and forth. All I know is she got up out of her seat and stood in front of me," Moore said.
"I stood up and she just kind of lost control."
Leakes, 46, immediately jumped on Moore for seeing it that way, noting she had pointed her scepter and talked through a bull horn in 31-year-old Williams' face.
"That's a violation even though you didn't hit her. You're not innocent."
Moore retorted, "We're adults, we're women. We're able to sit on this couch and control ourselves. We fight with our words. I am one of the best at it. If you feel that you cannot defend yourself after you tell lies…you don't need to be sitting here."
But Burruss, 37, said she had violated Williams' personal space.
Cohen pointed out, however, "Physical contact is not the correct response to someone getting in their personal space."
Article continues below advertisement
The law is "you withdraw," Moore maintained.
Meanwhile, Bailey, 46, claimed Williams wasn't under attack. "We're here to answer a lot of hard questions… I do not feel anybody should physically fight each other."
Moore said she was just "having a little bit of fun" with the props.
Faked Scenes, Lies & Payoffs – The Ultimate Guide To Reality TV Shows
But Leakes still argued that Moore was provoking Williams, which led the former Miss USA to hit back harder.
Moore said of Williams, "I don't think it has anything to do with a prop. I think her issue is far, wide and deep.
"You do not put your hands on anyone and anyone who does should be punished and they should not be allowed to sit on this couch," Moore said.
Growing up in Detroit, Moore said, she had to fight for everything, while Burruss derisively whispered to Parks, "Is this The Color Purple?"
But Moore felt they should all be united against violence: "Right is right, and wrong is wrong and violence against women on any level is wrong."
Article continues below advertisement
Still, Parks said, "Kenya has a way of provoking people. I love Porsha to death and I hate that it happened like this."
Moore claimed before the last reunion, Leakes called her to complain about Parks and suggested they gang up on her at the reunion show. Leakes, who is now friendly with Parks, angrily denied it and said, "Goodnight, Kenya! Don't make me call Porsha!"
Moore snapped, "Don't make me call Marlo!" referring to Leakes' frenemy, Marlo Hampton, who, as RadarOnline.com has reported, was banned by Leakes from appearing on the reunion.
Later, Parks told Moore, "You can't be a housewife because you can't get a husband."
Moore said to Parks, referring to Apollo Nida, "If I want a husband I don't have to look far because someone's husband strays."
In another big splash on Sunday's reunion show, the infamous Mama Joyce, who famously disapproved of daughter Burruss' fiancé, Todd Tucker, joined the gang.
Mama Joyce, wearing a pink gown, and saying she'd lost 40 pounds from "stress," claimed the only problem she had on RHOA was that people thought she'd tried to set up Tucker to look like a cheater, which she denied.
Article continues below advertisement
"We held you down," Burruss, who married Tucker after the reunion had taped, said drily.
While Mama Joyce called Tucker an opportunist all season for wanting to marry her wealthy singer daughter, it came out on the reunion show that Burruss has been giving her money!
When Cohen asked if she worked, Mama Joyce said, "I don't have to. Mama got a house that's completely paid off and security, and money in the bank. And Mama got every kind of diamond that you want to think of." She flashed an 18-carat gold ring at Cohen!
Article continues below advertisement
While Mama Joyce said Bailey was wrong to say she had been living off Burruss' money, daughter Burruss gasped, "Wait a minute, Mama! Do you want me to be truthful?"
Two years ago, Burruss said, "You had credit cards in my name I did not know about."
Mama Joyce admitted, "You gave me $700 a month."
Her daughter revealed, "Because you were spending all the rest of the money on gambling and the Home Shopping Network!"
Burruss explained as her daughter, she didn't mind giving her money, but getting choked up, told Mama Joyce she didn't like how she minimized her help.
However, Mama Joyce said as a single mom, she used to get up at 2 a.m. to support Burruss, refused to go on welfare, and worked in a pie factory. She also joked with Leakes, who once worked as a stripper, that she would have done the same thing to support her kids!
Article continues below advertisement
But the reunion show soon turned dead serious as Bailey and Leakes' feud was explored.
"When it comes to NeNe, I have been extremely loyal, to the point where people think I live up NeNe's a**," Bailey said, but revealed the friendship was indeed over: "We haven't really talked, two or three weeks now."
Faked Scenes, Lies & Payoffs – The Ultimate Guide To Reality TV Shows
Bailey admitted that watching the shows that were filmed last fall, and seeing Leakes call her husband Peter Thomas a b***h, opened up old wounds.
In a long, uncomfortable back and forth, Bailey told Leakes, "I don't feel like I can tell you you're wrong," while the RHOA alpha dog replied, "I have been an equally good friend to you."
Leakes shrugged that her style of friendship was different, "I don't react the same way you react."
Bailey started to cry and said, "I've seen so many of her friends come and go….I've never felt the respect was there."
Article continues below advertisement
The head housewife responded, "I'm not sure where that is coming from."
When Cohen pressed her that she didn't seem to care, Leakes said, "Why am I sitting on this couch discussing my friendship with Cynthia amongst you guys like you give a sh*t?"
Burruss took Bailey's side, telling Leakes, "It comes off as you're a selfish friend sometimes."
"These girls know nothing about our friendship," Leakes said, upset that Bailey was talking about all their issues publicly and wishing she would talk to her privately.
"I want her to respect me," Bailey said.
After Moore then chimed in, she and Leakes got into a shouting match with the Dancing with the Stars competitor snapping at her rival, "I think you would love to get in there and see something end!"
"If you can't get along with Cynthia, you can't get along with anyone," Moore said. "The moose has spoken."
Leakes retorted, "Cynthia's not an angel." And earlier, she had also thrown more shade at her husband, Thomas, for interfering in the women's business!
As the show ended, Bailey said wearily, "I love her….I miss NeNe, but I'll be okay. Unfortunately, sometimes you just come to the end of the road with people."