Oh, Snap! RHOA Diva Kenya Moore Denies Propositioning Co-Star Phaedra Parks' Husband Apollo: 'If He Could Have, He Would Have'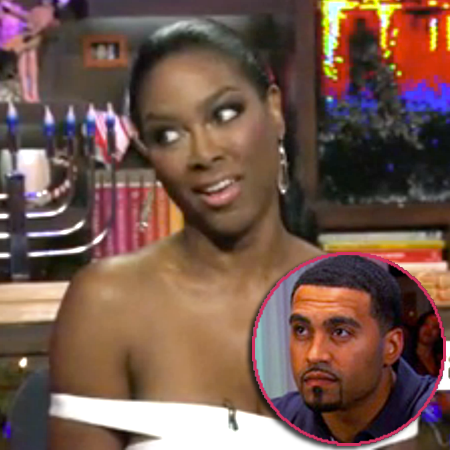 Article continues below advertisement
Kenya smirked, "That is the dumbest thing I've ever heard, because if he could have, he would have."
As the Watch What Happens Live audience hooted, Kenya added, "That situation, I'm done with.
"I've said all I have to say and that ridiculous story he made up to Phaedra about seeing me in L.A.? I've never seen Apollo outside of a Housewife taping, ever -- in L.A. or in Atlanta."
When Cohen asked why Apollo would lie to his wife Phaedra, Kenya said, "Maybe he was caught with some other person.
"I'm not the problem!" the former Miss USA laughed.
Kenya, who was ripped by RHOA viewers and co-stars over her allegedly inappropriate texts to Apollo, claimed, "I might be the fall guy, but I'm not the problem, I swear!"
Cohen said, "I have the feeling I will be bringing this up at the reunion show!"
Kenya replied, "I will be ready!"
Also on the talk show, Kenya blasted another co-star's husband, taking aim at Cynthia Bailey's main man, Peter Thomas.
Article continues below advertisement
Peter criticized Kenya via Twitter about Sunday night's RHOA episode, in which she caused a scene by taking charge of the housewives' bus trip to Savannah.
"Peter always has something to say. No one's paying attention to him," Kenya said dismissively to Cohen.
"He wants to be the seventh housewife. Please go somewhere else, Peter."
But Kenya appeared to have surprising affection for Kandi Burruss, even though Sunday's RHOA episode showed them screaming at each other on the bus.
When asked by a viewer why she has taken a pot shot at Kandi, saying she needs to skip some meals, Kenya said, "Kandi is the coolest girl in the world and she's talked about the fact she wants to lose a couple of pounds.
"I was just having some fun and I think Kandi can laugh at that, too. She knows she looks good. She's built like a brick house."
While Kandi is engaged, Kenya has been coy about her own love life.
Article continues below advertisement
A viewer claimed to have spotted Kenya vacationing in St. Martin, "and she had her big frowny face on while she was having lunch with a very handsome man."
Andy asked, "Is that your mystery boyfriend?"
"I don't know what she's talking about," Kenya smiled.
"I don't even know if I was there or not," she teased.
Watch the video on RadarOnline.com
But when Andy asked if Kenya was still dating the alleged boyfriend, who is from Africa, the housewife confirmed, "I am," while giving no details!
Kenya, who was joined by rapper Flo Rida on Cohen's talk show, might have another option if the mystery man doesn't work out.
Flo Rida, who showed off a diamond pinkie ring, was asked if he would like to marry Kenya, and joked, "I think I have the ring already."