Kenya Moore Confronts Apollo Nida About Sexting Scandal, Claims He's 'Trying To Cover Up What He's REALLY Been Doing!'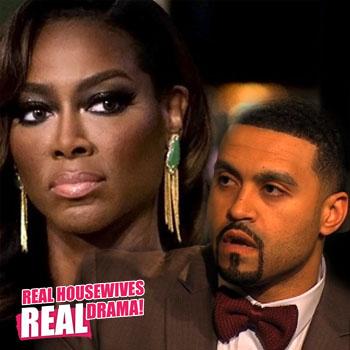 Kenya Moore will finally confront Phaedra Parks' husband Apollo Nida about his claims that she propositioned him in Los Angeles.
In a preview for Sunday's new The Real Housewives of Atlanta, Moore sits down with her legally troubled co-star to understand why he is spreading the vicious rumors.
"From the beginning when I met you, I was the biggest Apollo fan, and I think you know that. It seemed as though when Phaedra and I fell out, you and I were still cool. Then, I feel like you were trying to attack me and make me look bad," Moore explained.
Article continues below advertisement
Nida admitted he felt "the same way" about her, but Moore wasn't buying it.
"I never said anything negative about you. You can't find one instance where I've ever said anything negative about you," she stated.
The former Miss USA pushed on and asked why Nida told his wife that he could have 'slept with' Moore if he wanted to.
Faked Scenes, Lies & Payoffs – The Ultimate Guide To Reality TV Shows
"Where is all this coming from? We both know that the stuff you were throwing out there, that it didn't happen," Moore said.
"No. You put yourself into that situation… I could have slept with you if I wanted to," Nida said as Moore laughed hysterically.
Across the room, Parks scowled about her hubby: "What the hell is he doing over there with her?!"
Speaking to the cameras, Moore weighed in on the situation -- possibly alluding to Nida's recent bank fraud and identity theft charges.
"Apollo knows nothing happened between me and him. Yet, he's running around town telling the streets that we had some fictitious meeting in L.A. that NEVER happened, only to cover up what he's really been doing," Moore added.