ON YOUR RADAR 2012: Grisliest Crime Stories Of The Year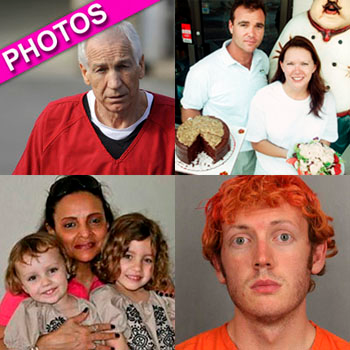 By Debbie Emery - RadarOnline.com Reporter
2012 was another year of tragic and bizarre crimes that sounded like they were either ripped from the pages of a detective novel or the plot-line of a Hollywood slasher movie.
The Krim family in Manhattan was devastated when they came home from swim class to find that their nanny, Yoselyn Ortega, had allegedly stabbed Lucia, 6, and Leo, 2, to death and left their small, butchered bodies in the bathtub soaked in blood. The 50-year-old New Yorker suffered wounds to her throat after then turning the knife on herself, and was sent for psychiatric evaluation while awaiting trial for the double murder.
Article continues below advertisement
Rudy Eugene's bloodthirsty attack on a homeless man where he literally ripped his face off and ate the flesh catapulted the Miami native into urban folklore and made the synthetic drug bath salts a buzzword around the water cooler. Allegedly high on the drug (although autopsy tests couldn't verify that), the 31-year-old was found naked and chewing on Ronald Poppo's face in a Silence of the Lambs style rampage under a causeway in May. When he didn't respond to demands from police that that he dismount his victim, Eugene was shot and killed.
American Idol alum Jennifer Hudson finally saw the man who butchered her family brought to justice when a Chicago court found William Balfour guilty of killing her mother, brother and nephew in October 2008. The triple murderer was given three life sentences in July, as the judge told him that his "soul is as barren as dark space."
Aftershocks from the Jerry Sandusky sex abuse scandal continued to reverberate even after the assistant football coach from Penn State was found guilty of 45 counts of sexual assault against minors in June, and later sentenced to at least 30 years in prison. The 68-year-old pedophile has maintained his innocence in a bizarre letter from prison and is due in court on January 10 to appeal.
Article continues below advertisement
Sons Of Anarchy star Johnny Lewis became the star of his own gruesome script when he allegedly murdered his 81-year-old landlady, butchered her cat and then fell to his own death from their two-story Los Angeles home. As RadarOnline.com previously reported, it had been rumored that the Scientologist was on the synthetic party drug Smiles on the day that he allegedly bludgeoned Catherine Davis to death but toxicology reports didn't find any trace of it in his system.