Jerry Sandusky, 68, Sentenced To At Least 30 Years In Prison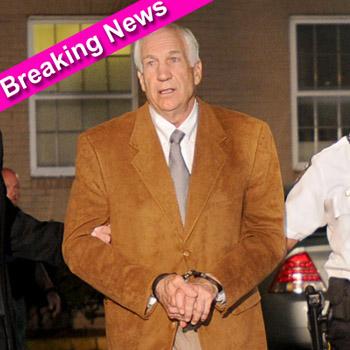 Pennsylvania Judge John Cleland sentenced former Penn State assistant coach Jerry Sandusky to 30 to 60 years years in prison Tuesday in connection with his conviction on 45 counts of child sexual abuse involving at least 10 boys from 1994 to 2009.
In court, the convicted pedophile delivered a rambling 15-minute statement in which he, again, claimed to be innocent of the charges, and sad over being separated from his family.
Article continues below advertisement
"I speak today with hope in my heart for a brighter day, not knowing if that day will come," the disgraced Sandusky said. "Many moments have been spent looking for a purpose. Maybe it will help others, some vulnerable children who might have been abused, might not be, as a result of the publicity."
He continued, "I've forgiven, I've been forgiven. I've comforted others, I've been comforted. I've been kissed by dogs, I've been bit by dogs. I've conformed, I've also been different. I've been me. I've been loved, I've been hated."
Three of Sandusky's victims gave their victim impact statements in court Tuesday, one of whom suggested the convicted pedophile finally "stop coming up with excuses" for his misdeeds.
"I've been left with deep painful wounds that you caused and had been buried in the garden of my heart for many years" the victim, who said Sandusky abused him when he was 11, told the ex-coach.
Another victim (who said he was abused at 13 in 2001 by Sandusky) said he continues to be "troubled with flashbacks of Sandusky's naked body, something that will never be erased from my memory.
Article continues below advertisement
"Jerry has harmed children, of which I am one of them," the victim said.
Judge Cleland -- who could have sentenced Sandusky to as many as 400 years behind bars -- told the disgraced assistant coach: "The tragedy of this crime is that it's a story of betrayal -- the most obvious aspect is your betrayal of 10 children.
"I'm not going to sentence you to centuries in prison, although the law will permit that."
The judge -- who called Sandusky's cries of innocence "unbelievable" -- stipulated the convicted child molester will be subject to lifetime registration as a sexually violent predator should he ever be released.
Sandusky says he will appeal the trial, in part because he didn't have enough time to get ready for it.
Penn State President Rodney Erickson said in a statement after the verdict was delivered: "Our thoughts today, as they have been for the last year, go out to the victims of Jerry Sandusky's abuse. While today's sentence cannot erase what has happened, hopefully it will provide comfort to those affected by these horrible events."
Article continues below advertisement
Sandusky, who was convicted in June, had characterized his behavior with the children as "horseplay," and his time with them as "precious" and "significant" in an interview with Bob Costas last November.
Watch the video on RadarOnline.com
He claimed to the New York Times last December that while he's attracted to children, it's not in a sexual way.
"If I say, 'No, I'm not attracted to young boys,' that's not the truth because I'm attracted to young people -- boys, girls," Sandusky said. "I enjoy spending time with young people. I enjoy spending time with people ... I mean, my two favorite groups are the elderly and the young."