Defense Abruptly Rests In Jerry Sandusky Sex Abuse Trial Without Him Testifying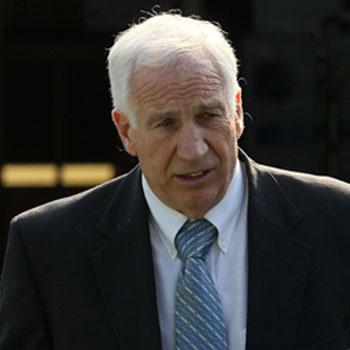 By Debbie Emery - RadarOnline.com Reporter
After only two days presenting its case, the defense in Jerry Sandusky's child abuse trial rested on Wednesday morning without calling the former Penn State football coach to the stand as anticipated.
The Bellefonte, Pennsylvania court was dismissed and proceedings will resume on Thursday with closing arguments before the high-profile case is handed over to the jury to decide the fate of the 68-year-old alleged pedophile.
Article continues below advertisement
In their final attempt to undermine a key witness, former graduate assistant Mike McQueary, Sandusky's attorneys called Dr. Jonathan Dranov, a family friend who was called to McQueary's home the night he allegedly caught his mentor in the shower with a young boy, reported the New York Times.
"His voice was trembling, his hands were shaking," said the physician, who revealed that the account McQueary gave him differed from what he testified on the witness stand last week.
He said McQueary told him that a boy stepped out of the shower, not seeming upset, and then "an arm reached out and pulled the boy back." A little later, he saw Sandusky step from the shower, but Dranov said, he did not claim to have seen any sexual contact between Sandusky and the boy.
On Tuesday, the defendant's wife of 46 years, Dottie Sandusky, took the stand and said she never saw any inappropriate conduct between her husband and alleged victims, but she also said she couldn't think of a good reason why the alleged victims or McQueary would lie.
Article continues below advertisement
Prosecutors rested their case Monday after presenting 21 witnesses, including eight who said they had been assaulted by Sandusky.
The scandal has shaken Penn State to its very foundation, provoking the firings of several high-ranking officials for their inaction when allegations of Sandusky's pedophilic tendencies began sprouting up.
Most notably, longtime Head Coach Joe Paterno, who has since died from cancer, was fired for a perceived non-response to a 2002 report from McQueary that Sandusky had raped a 10-year-old boy in the Penn State locker room showers.