Jerry Sandusky's Wife Dottie Testifies At His Child Sex Abuse Trial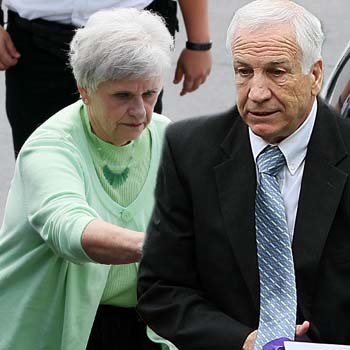 By Debbie Emery - RadarOnline.com Reporter
Following the string of heartbreaking testimony from young victims in the Jerry Sandusky sex abuse trial last week, it was the turn of his wife to take stand in the Bellefonte, Pennsylvania courtroom on Tuesday.
Despite him being charged with 51 counts of sexually abusing 10 boys over the span of 15 years, Dottie Sandusky has stood by her husband, even posting his bail, accompanying him to court proceedings and issuing a statement in December that proclaimed his innocence.
Article continues below advertisement
Much of the alleged abuse occurred in her own house, but Dottie testified that she never saw any inappropriate conduct between her husband and alleged victims, but she also said she couldn't think of a good reason why the alleged victims or prosecution witness Mike McQueary would lie, reported the Patriot News.
The loyal wife of 46 years claimed she didn't ever hear screams from the basement - even though one accuser testified to yelling out - and went on to call Victim 1 "demanding and conniving" and described other boys as "very clingy."
According to CBSNews.com, earlier in the trial alleged Victim 4 testified that Dottie returned to the room during an attempted sex act in a bathroom but she claimed both were fully clothed.
She went on to downplay the frequency of overnight visits from Second Mile children but said she wasn't good with years and couldn't definitively estimate how often overnight visits would occur with certain accusers.
Article continues below advertisement
Mrs. Sandusky said her husband had a very busy schedule, often working late hours, but he would always come home each day for dinner. After he retired from coaching, she said, his schedule continued to be hectic as he traveled often for fundraisers.
The defense called its first witnesses on Monday and testimony is expected to conclude on Wednesday.
RELATED STORIES:
Defense Witnesses Take Stand In Jerry Sandusky Child Abuse Trial