Defense Witnesses Take Stand In Jerry Sandusky Child Abuse Trial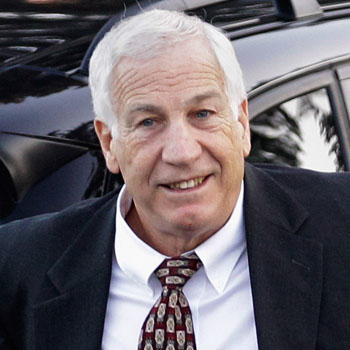 By Debbie Emery - RadarOnline.com Reporter
Following a week packed with shocking testimony from the prosecution during which the jury heard tales of children being coerced into showers, saw three of the alleged victims cry and were brought to tears themselves, it was the defense's turn to take the stand on Monday in the Jerry Sandusky child abuse trial.
All four people who were called to the stand were essentially character witnesses who portrayed him as a caring mentor to the boys rather than the creepy pedophile that the prosecution alleges he is.
Article continues below advertisement
"(Sandusky) had a wonderful reputation in the community, he was well thought of in every regard," revealed former Penn State football player and assistant coach Dick Anderson, reported StateCollege.com.
Under cross examination, he admitted that it was common for Sandusky to bring boys involved in the charity to events and he didn't think it was inappropriate for boys to sleep over if they needed emotional support in some way, "if necessary, I would do that," Anderson said.
Later in Monday's proceedings, another defense witness backed up the positive review of the 68-year-old's reputation.
"I saw a mutual admiration between Second Mile youth, both boys and girls, with Jerry. I saw a lot of goofing around. Jerry had a very unique way, and many of us were inspired by this, how he could relate to youth of all ages and really get to their level and communicate," said former Second Mile employee, David Pasquinelli.
Article continues below advertisement
Judge John Cleland called an abrupt end to the day's testimony citing "technical issues" with some of the witnesses and court was adjourned until Tuesday morning, however few further witnesses are expected to be called on the former coach's behalf and the trial could go to jury as early as Wednesday.
Sandusky is accused of 52 criminal counts of sexually abusing 10 boys over 15 years. He denies the charges, which brought disgrace to Penn State and led to the ousting of both the school's president and Hall of Fame football coach Joe Paterno.