Jerry Sandusky Called Himself A 'Tickle Monster' To The Children He Alleged Abused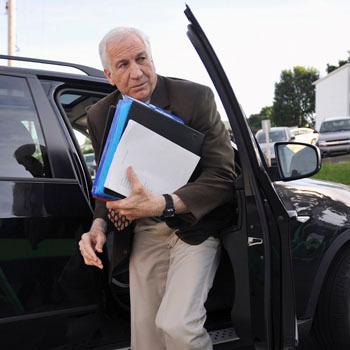 By Debbie Emery - RadarOnline.com Reporter
Most of America considers Jerry Sandusky to be a monster, but not in the sick and twisted way he allegedly portrayed himself to the young boys he is accused of sexually abusing.
On Thursday, jurors in the Bellefonte, Pennsylvania courtroom heard even more dark and disturbing testimony about how the former Penn State football coach referred to himself as a "tickle monster" to one of his accusers, reported the Chicago Sun Times.
Article continues below advertisement
Victim 6, who is now 24, revealed how the 68-year-old had tickled him, lured him into the showers and said he was going to "squeeze (the boy's) guts out," he told the court, at which point he "blacked out" and can't remember what happened in the rest of the abusive nightmare.
The episode became the linchpin for the first criminal investigation of Sandusky as a child sex abuser, launched in 1998 when the man's mother called Penn State campus police to report that a staff member had been inappropriately showering with her son, but it never led to an arrest.
Another accuser, who is now a member of the Army National Guard, described frequent sleepovers at Sandusky's home in 1998 and 1999 and revealed how he felt he loved the coach and saw him as a father figure because he didn't know where his real dad was.
"He made me feel like I was a part of something, like a family. He gave me things that I hadn't had before," said Victim 3. But when he left the area to move into a group home the surrogate parent shunned him.
Article continues below advertisement
"He just forgot about me, like I was nothing. I would pray he would call me and maybe find a way to get me out of there ... but it never happened," the man testified.
The prosecution closed on Thursday with the heart-wrenching revelations from Victim 9, who revealed that as a 70-pound weakling he would be forced to have oral sex with Jerry. "There was no fighting against it," he said. "Sometimes (I'd) scream, sometimes tell him to get off me, but other than that, who was there? We were in the basement, no one could hear you down there. We were always down there."
As RadarOnline.com previously reported, so far this week the jury in the increasingly shocking case have already heard tales of children being coerced into showers, seen three of the alleged victims cry, and been brought to tears themselves.
Sandusky is accused of 52 criminal counts of sexually abusing 10 boys over 15 years. He denies the charges, which brought disgrace to Penn State and led to the ouster of both the school's president and Hall of Fame football coach Joe Paterno.