Jerry Sandusky's Adopted Son Drops Bombshell: I'm A Victim Too!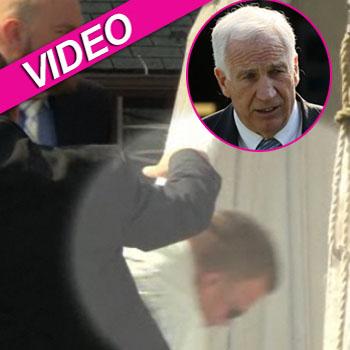 As the jury enters its second day of deliberations Friday in the trial of Jerry Sandusky, a bombshell has emerged that the jury does not know about -- the coach's adopted son Matt now claims he too was abused by the former Penn State defensive coach.
Matt's attorneys, Andrew Shubin and Justine Andronici, said in a statement: "During the trial, Matt Sandusky contacted us and requested our advice and assistance in arranging a meeting with prosecutors to disclose for the first time in this case that he is a victim of Jerry Sandusky's abuse. At Matt's request, we immediately arranged a meeting between him and the prosecutors and investigators.
Article continues below advertisement
"This has been an extremely painful experience for Matt, and he has asked us to convey his request that the media respect his privacy. There will be no further comment."
NBC reports that Sandusky decided not to testify at his trial after his lawyers were warned that prosecutors would call Matt to the stand. Sources told NBC that Matt's lawyers said he was prepared to testify that his father had abused him.
In the meantime, in an on-camera interview, Travis Weaver, 30, told NBC's Kate Snow that beginning at the age of 10, he too was abused more than 100 times by the coach.
"I tried to keep him off of me and resisting him and he kind of pinned me down on the bed and I told him if he didn't get off me I'd call the police on him," said Weaver, who claims the abuse continued from from 1992 until 1996. "And he just laughed at me and then, you know, forced me to stay on the bed, and told me if I ever said anything that nobody was going to believe me, and he would get my dad fired from Penn State."
Article continues below advertisement
Weaver said he's spoken up about the abuse "because I kind of feel responsible for all the other kids that this happened to, and I want people to be aware that it is happening and let them know that it is okay to step up and say something."
Weaver, who's the John Doe in the lawsuit filed in Philadelphia last autumn, said that if he'd punch Sandusky in his mouth if he was standing in front of him.
The 68-year-old coach has denied accusations he molested 10 boys from 1994 to 2009. Among the 48 criminal counts he's facing include: involuntary deviate sexual intercourse, corruption of minors, endangering the welfare of a child, indecent assault and unlawful contact with a minor, along with single counts of aggravated indecent assault and attempted indecent assault.
In closing statements Thursday, Senior Deputy Attorney General Joseph McGettigan III said Sandusky "molested and abused and hurt these children horribly … knows he did it and you know he did it.
"Find him guilty of everything," he told the jury.
Sandusky has characterized his behavior with the children as "horseplay," and his time with them as "precious" and "significant."
He told the New York Times that while he's attracted to children, it's not in a sexual way.
Article continues below advertisement
"If I say, 'No, I'm not attracted to young boys,' that's not the truth because I'm attracted to young people -- boys, girls," Sandusky said. "I enjoy spending time with young people. I enjoy spending time with people ... I mean, my two favorite groups are the elderly and the young."
If convicted of the charges, Sandusky could get life in prison.
Visit msnbc.com for breaking news, world news, and news about the economy