Jerry Sandusky Set To Still Get State Pension Despite Sex Abuse Conviction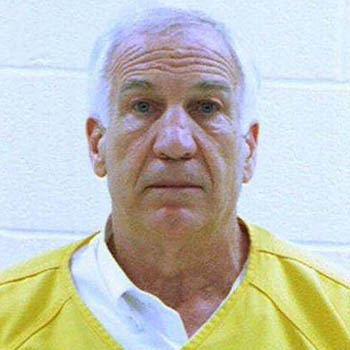 By Debbie Emery - RadarOnline.com Reporter
He is destined to spend the rest of his life in prison for sex abuse, but disgraced former college football coach Jerry Sandusky is set to still get paid his annual $59,000 pension by the state whose children he abused.
The man who caused a crisis at Penn State is currently sitting behind bars in the Centre County prison in Pennsylvania, where he is collecting monthly pension checks totaling $4,908.17, reported CBS Philly.
Article continues below advertisement
The state law, which governs when pensions must be forfeited by a convict, does not include any specific references to sex crimes, but does omit those who commit "forgery and perjury." This means that while Tim Curley and Gary Schultz, the Penn State administrators charged with lying about the Sandusky scandal, could lose theirs the sex offender won't.
A spokeswoman for the State Employee Retirement System said she would not speculate on any specific individual's pension, but did say the pension board would fully review Sandusky's case once he is sentenced later this summer.
Tax payers are outraged that the convict, who described himself as a "tickle monster" to some of his victims, should be reaping the benefit of their hard work especially when some of his crimes took place on Penn State property.
"As a Pennsylvania taxpayer and a lawyer for one of the victims, this doesn't seem right," attorney Tom Kline, who represented Sandusky victim five, told CBS. "It appears that you could do an awful lot of heinous crimes so long as they do not relate to your official duties in your public employee capacity."
Article continues below advertisement
As RadarOnline.com previously reported, the 68-year-old was found guilty of 45 counts of sexual assault against minors on June 23 following weeks of emotional testimony from eight of his victims.
His adopted son, Matt Sandusky, opened up on Monday about the years of abuse he endured at the hands of the former coach, which started a decade before he was legally taken in by the family, and led to a failed suicide attempt.