Jerry Sandusky's Adopted Son Considered Suicide After Years Of Abuse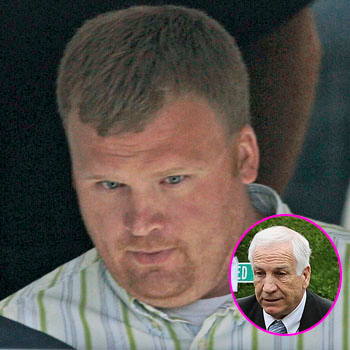 By Debbie Emery - RadarOnline.com Reporter
The adopted son of convicted child abuser Jerry Sandusky has opened up about the years of abuse he endured at the hands of the former Penn State football coach, which started a decade before he was legally taken in by the family.
During a secret interview recorded in the midst of the trial, Matt Sandusky, now 33, told police that he was sexually molested by his father for years and confessed that he once attempted suicide, according to a copy of the tape obtained by NBC News.
Article continues below advertisement
Matt detailed how his dad would creep into his room at night and "blow raspberries" on his stomach, then move down his body until he was cowering in a corner in a fetal position.
"It just was, just became very uncomfortable. You know, just with everything that was going on," he said on the tape. "With like the showering, with the hugging, with the rubbing, with the just talking to me.
"The way he spoke. And just, the whole interaction with him alone. Anything, anytime we were alone just those interactions," he revealed, clearly traumatized by his recollections. Unlike many of the eight victims who recalled graphic details of sexual abuse, he didn't remember any actual penetration or oral sex.
As RadarOnline.com previously reported, the jury in the Bellefonte, Pennsylvania courtroom found Sandusky guilty of 45 out of 48 sexual assault charges against minors, and was immediately taken from the court in handcuffs on Friday night.
Allegations ranged from rape to indecent touching, and covered a 15-year period involving ten victims.
The enlightening interview tape was created on June 15 while Matt was being prepped to testify as a surprise rebuttal witness against his adopted father if he took the stand to defend his heinous actions.
Article continues below advertisement
It was a surprising turn of events for Matt who had long stood by the former football coach and even sat with the rest of the family on the first day of the trial, but after hearing the disturbing details repeatedly voiced by 'Victim 4,' he called police and said he wanted to tell his side of the story.
The switch in allegiances was a "complete shock" to Jerry, revealed his co-counsel attorney Karl Rominger. "You have to understand that Matt has worked with him, Matt has helped the defense, Matt literally carried boxes in the courthouse with us.
"Matt has given multiple investigators from the government and our side ironclad statements of support for his father," he said, adding that it was a "huge factor" in why the defendant didn't take the stand.
"I came forward, I mean, for different reasons," explained Matt. "But I mean for my family you know so that they can really have closure and see what the truth actually is. And just to right the wrong, honestly, of going to the grand jury and lying."
Article continues below advertisement
Like many of the victims, Matt met Sandusky through the The Second Mile charity when he was eight and began staying over at the house, with Jerry and wife, Dottie, eventually adopting him when he turned 18.
The sexual abuse during those years was so devastating that on one occasion he tried to run away, and on another he and a girlfriend attempted to commit suicide by overdosing on aspirin. "I really wanted to die at that point in time," he said.
The torment eased when a new boy – who would eventually be known as Victim 4 - moved in and became the object of Jerry's affection.
Sandusky is currently being held at Pennsylvania's Centre County jail, where he is being kept away from inmates pending a psychological review. He is expected to be sentenced in three months, and according to Rominger, remains adamant about his innocence.
RELATED STORIES: