Jerry Sandusky Found Guilty!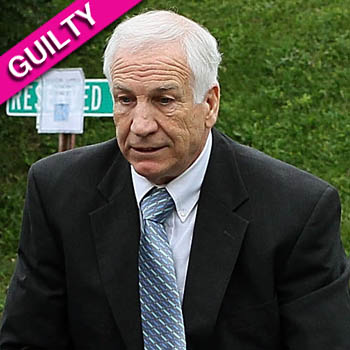 Jerry Sandusky is now a convicted child molester likely to spend the rest of his life in prison.
The former Penn State assistant football coach was found guilty of 45 counts of sexual assault against minors, and was immediately taken from the court in handcuffs.
After deliberating for almost twenty-one hours, a jury of seven women and five men found Sandusky guilty on all but three of the 48 counts against him. Allegations ranged from rape to indecent touching, and covered a 15-year period involving ten victims.
Article continues below advertisement
As previously reported, Jerry Sandusky's child abuse trial rested on Wednesday morning without calling the former Penn State football coach to the stand as anticipated.
In closing statements Thursday, Senior Deputy Attorney General Joseph McGettigan III said Sandusky "molested and abused and hurt these children horribly … knows he did it and you know he did it.
"Find him guilty of everything," he told the jury.
MORE ON:
Celebrity Justice