Jerry Sandusky Sex Abuse Case: 'Highly Incriminating Evidence' Revealed, New Charges Expected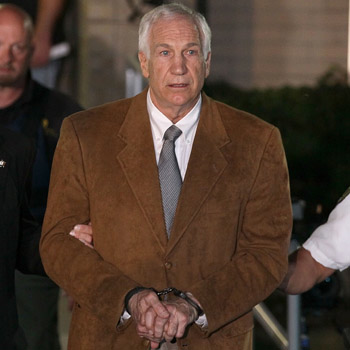 By Debbie Emery - RadarOnline.com Reporter
The criminal investigation into the Jerry Sandusky sex abuse case is a far from over as prosecutors claim they have a "great deal" of "highly incriminating" evidence that they never brought up during his trial that could lead to more charges.
The statements are part of a transcript released Thursday from a closed-door meeting held in June, after Sandusky had been found guilty of child sex abuse, reported ABCNews.com, that were kept secret for fear of interfering with an ongoing investigation.
Article continues below advertisement
"We turned over transcripts of other potential victims and transcripts relating to the Penn State University and some of the potential events involving Penn State's connection with this case that I think would be highly sought by the media and that would not be in the best interests of anybody, especially potentially ongoing matters to be disclosed," said Pennsylvania's deputy Attorney General Frank Fina.
The Attorney General did not comment on who the investigation will be targeting, and it is not known if it is related to RadarOnline.com's recent exclusive report that both the FBI and a criminal investigative division of the United States Postal Service are looking into the possible existence of a pedophile ring that involved Sandusky sharing boys with other men connected to Penn State.
"Investigators have interviewed at least one man who claims to have knowledge of Sandusky, 68, and a very prominent man, with strong ties to Penn State, both sexually abusing a boy," a source familiar with the situation told RadarOnline.com.
Article continues below advertisement
In June, the former Penn State assistant coach was found guilty of 45 counts of sexual assault against minors following allegations that ranged from rape to indecent touching, and covered a 15-year period involving ten victims.
The meeting was called after a recording of Jerry's son, Matt Sandusky, talking to the Pennsylvania attorney general was leaked to NBC. On the tape, Matt told prosecutors that his adopted father had acted inappropriately with him, a charge that stunned Sandusky's defense team in the middle of the trial.
Prosecutors, investigators and Jerry Sandusky's defense attorneys all denied supplying NBC with the recording, and asked the judge to institute an all-encompassing order sealing all of the evidence in the case, according to ABC.
Fina revealed that only three copies of the tape existed, one of which was given to Sandusky's attorneys, Joseph Amendola and Karl Rominger and the others were held by the state. Rominger claims he never listened to the recording and it is "still in his car. I made no copies of it, and I have no copies of it."
Article continues below advertisement
Penn State athletic director, Tim Curley, and former vice president of finance, Gary Schultz, have already both been charged in connection with the Sandusky case, relating to lying to the grand jury and having prior knowledge of the abuse and it is not yet known who else will join them to face trial.
According to the internal investigation report released by former FBI director Louis Freeh in July, both Curley and Schultz, along with former head coach Joe Paterno and former university president Graham Spanier, all knew about two incidences in which Sandusky was showering with boys on Penn State's campus.
Instead of reporting him to the police after a 1998 investigation, they merely banned the former football coach from bringing children onto campus – which was then not enforced.
Spanier has not yet been charged but many believe that he could be the next on the chopping block for his role in covering up a 2001 abuse allegation against Sandusky from assistant coach Mike McQueary, and the newly released report "suggests potential liability for Spanier."
Article continues below advertisement