Penn State Coach Joe Paterno Cried For Himself, And Not The Victims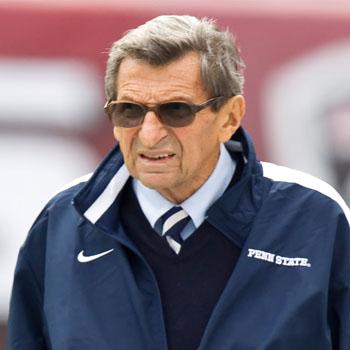 By Debbie Emery - RadarOnline.com Reporter
Longtime Penn State football coach Joe Paterno "sobbed uncontrollably" the day after he got the phone call last November that his 46-year career at the school was over, a new biography claims.
Sadly, it appears that the legendary coach wasn't shedding tears for the boys who had been abused at the hands of convicted sex offender Jerry Sandusky, but for the loss of his reputation.
Article continues below advertisement
"My name," Paterno told his son Jay. "I have spent my whole life trying to make that name mean something. And now it's gone."
The behind-the-scenes insight into that fateful day is revealed in the groundbreaking new biography Paterno by journalist Joe Posnanski, who as a senior writer for Sports Illustrated was invited to to join Joe in State College, Pennsylvania, to spend the upcoming season writing his biography, reported GQ.com.
Due to the unique timing of his assignment, Posnanski was afforded inside access to Paterno and his inner circle as the Sandusky scandal engulfed the campus and the nation.
The author goes on to describe the formerly invulnerable coach's "bad day" after he was dismissed by the Penn State board of trustees: "On Thursday, Paterno met with his coaches at his house. He sobbed uncontrollably. This was his bad day. Later, one of his former captains, Brandon Short, stopped by the house.
Article continues below advertisement
"When Brandon asked, 'How are you doing, coach?' Paterno answered, 'I'm OK,' but the last syllable was shaky, muffled by crying, and then he broke down and said, 'I don't know what I'm going to do with myself.'"
As the scandal escalated around them, Paterno and his family were forced to hire high-powered PR specialist Dan McGinn to calm the storm, which was when they discovered just how far his reputation and influence had fallen.
"He asked (family adviser Guido) D'Elia for the name of one person on the Penn State board of trustees, just one, whom they could reach out to, to negotiate a gracious ending," wrote Posnanski. "D'Elia shook his head.
Jerry Sandusky Labeled 'Pedophile' By Psychologist In 1998
"'One person on the board, that's all we need,' McGinn said.
"D'Elia shook his head again. 'It began in 2004,' he whispered, referring to an old clash Paterno had with university president Graham Spanier. 'The board started to turn. We don't have anybody on the board now.'"
Article continues below advertisement
The latest bombshell in the scandal is that a witness interviewed by federal authorities in the widening Penn State investigation claims he saw Jerry Sandusky and one of the school's prominent boosters sexually abusing boys on a private plane, RadarOnline.com reported last week.
Paterno by Joe Posnanski goes on sale on Tuesday, August 21, and an exclusive excerpt from the book is in the new issue of GQ, on newsstands now.