Exclusive
Witness: I Saw Sandusky And Penn State Booster Abuse Boys On Private Plane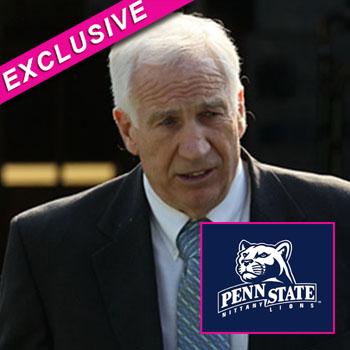 Article continues below advertisement
And while Postal Inspectors are also trying to determine if Sandusky shared pornography through the mail and sent seductive letters to his victims, the biggest bombshell is the allegation leveled by the witness who was interviewed within the past few weeks.
That man, who has a strong tie to the booster he is accusing, says that Sandusky and the booster abused two boys on a private plane in Pennsylvania, a source close to the situation tells RadarOnline.com exclusively.
"The witness doesn't know if the boys are victims who have already been identified or not," the source told RadarOnline.com. "He claims it happened on a private plane, with no pilot or crew around and that he was an eyewitness.
"His claim is being taken seriously by investigators. They have already asked another man who is connected to one of the victims if he knew anything about this. And they are following up with other potential witnesses."
Article continues below advertisement
While Postal Inspectors have taken the lead in the investigation into possibly mailed material, the FBI was present during the interview of this witness and is continuing to probe.
"This witness has some baggage," the source said. "The Feds are going to need to corroborate what he says. But he is adamant that he is telling the truth. And that raises questions about why he didn't report what he saw at the time.
MORE ON:
Celebrity Justice
"Unfortunately he's not the only person involved in this who didn't do the right thing when they should have."
The child sexual abuse scandal destroyed the reputation and legacy of Penn State football head coach Joe Paterno, led to the conviction of former coach Sandusky on 45 sexual abuse charges and severe NCAA sanctions against the university.
But the worst may be still ahead.
"If the Feds can prove what this witness is saying then a sickening situation just got worse," the source said. "The witness does not know who the boys are and if they were from Sandusky's Second Mile charity. He can prove his tie to the booster but the Feds are going to have to prove the rest."
Article continues below advertisement
Both the FBI and the U.S. Postal Investigators have declined to comment to RadarOnline.com on the investigation.
The witness has also refused to comment and his former attorney told RadarOnline.com that he would not comment about a client.
But RadarOnline com has obtained documents that financially tie the witness to the booster. Those documents show a significant and tangled relationship between the two men.