Penn State's $60 Million NCAA Sandusky Fine Should Go To Child Abuse Victims, Prosecutors Say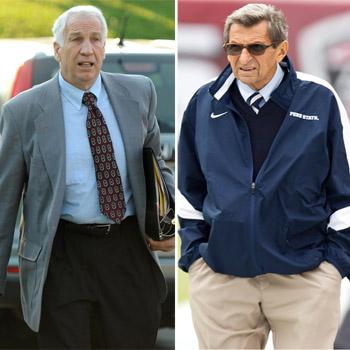 Pennsylvania prosecutors are pushing for part of the $60 million fine imposed on Penn State University for its poor handling of the Jerry Sandusky child abuse scandal to go directly to victims and to provide more child-advocacy centers in the state.
"Too many children of sexual abuse don't have access to these much needed services due to the lack of dedicated funding stream and the current limitations," Shawn C. Wagner, president of the Pennsylvania District Attorneys Association said.
Article continues below advertisement
Several top Penn State officials, including legendary coach Joe Paterno, were harshly criticized by an internal University report for knowing that Sandusky was sexually molesting children and doing nothing to stop it out of fear its football program would be hurt.
And the story hasn't ended.
As RadarOnline.com exclusively reported on Friday, the name of a prominent Penn State booster has surfaced in the explosive new criminal investigation into Sandusky with a witness claiming the booster was involved with the former defensive coordinator in abusing young boys.
While the NCAA has said the $60 million fine should be put in an endowment to fund child-abuse prevention and treatment programs, Penn State have offered no specific ideas but that the fund will "produce countless opportunities to help children in need."
There are currently only 21 child advocacy centers across the state mostly in populous places like Philadelphia and no such facility in Centre County where Penn State is located.
Article continues below advertisement
"I guarantee you that had there been a child-advocacy center in Centre County in 1998, you would have heard about Jerry Sandusky then," Bucks County District Attorney David Heckler said.
Sandusky was convicted of 45 counts of child sex abuse in June and Penn State received a list of sanctions from the NCAA including a four-year postseason ban and the loss of the team's wins from 1998 to 2011.
RELATED STORIES: